Ultrasound machines are one of the most widely used imaging modalities in medicine today. Since they use sound waves instead of X-radiation, they are considered to be safer than many of the other diagnostic radiology modalities. Sonography machines have advantages over other imaging modalities on account of excellent visualization and real-time imaging capabilities, non-invasive nature, proven clinical efficacy, easy access, easier management and a relatively low cost say as compared to CT/MRI. Hence ultrasound machines have become common, not only in traditional settings like cardiology, general imaging, and obstetrics/gynecology, but also in emerging specialties such as emergency departments, anesthesia and intensive care units. When one is looking to buy an ultrasound machine on a tight budget it is very important to cut-out the frills and pay for only what is necessary. What are the important features for ultrasound machine comparison?
The following are some important questions to consider when buying an ultrasound machine:
What is the intended use or application of the ultrasound machine?
What probes/ transducers are required?
What features & software are required? How good is the image quality?
Do you need a portable ultrasound machine?
Other general parameters like

What are the dimensions and weight of the machine?
Is battery back-up available? For what duration?
What is the image storage capacity, Printing, data transfer and connectivity capabilities?

What is the cost of after sales Support?
What is your budget?
Looking for a ready template listing most important features to compare? Scroll to the end of the blog. For details of these 7 factors read on…
What Are the Diagnostic or Screening Uses intended?
Ultrasound machines are used for diagnostic imaging in Obstetrics, Gynecology, Cardiology, Vascular studies, Abdominal studies, Anesthesia, Breast, neck, skin and other small parts.
Obstetrics: Ultrasound machines are used during pregnancy to assess the progress of a fetus. It is used to find out information like the number of fetuses in the womb, the age of the fetus, the location of the placenta, the fetal position, movement, breathing and heart rates and the amount of amniotic fluid in the uterus. Doppler ultrasounds may also be used to measure blood flow and may be used if there is a suspicion that the fetus is not growing properly.
Gynecology: Apart from pregnancy related imaging, ultrasound machines are extensively used for other women's health related issues. Vaginal/pelvic or transvaginal ultrasound is done to diagnose growths or tumors of the ovary, uterus and fallopian tubes. It can be used to assess non-pregnancy related issues such as lower abdominal pain, ovarian cysts, uterine fibroids, uterine growths, endometriosis etc.
Cardiology: Echocardiography is commonly done to evaluate the overall functioning of the heart. It is used to evaluate the flow of blood through the chambers and valves of the heart, assesses the strength of the heart beat and the volume of blood pumped through. Doppler ultrasound echocardiography is often used for detecting heart valve problems, such as mitral valve prolapse or aortic stenosis; congestive heart failure; blood clots due to irregular heartbeats such as in atrial fibrillation; abnormal fluid collections around the heart, such as pericardial effusions and pulmonary artery hypertension.
Blood vessels: Ultrasound is useful in detecting problems with most of the larger blood vessels in the body. Using Doppler ultrasound technology, the flow of blood through the vessels can be observed and measured. Narrowing of vessels (stenosis) or widening of vessels (dilatation, also referred to as aneurysms) can be detected. Ultrasound testing of blood vessels includes carotid ultrasound, abdominal aorta ultrasound for abdominal aortic aneurysm and blood clots in veins (superficial or deep venous thrombosis – DVT).
Abdominal structures: Most common use of ultrasound machine is in inspecting the organs within the abdominal cavity, including the liver, gallbladder, pancreas, kidneys, and bladder.
Ultrasound is used to diagnose testicular torsion, epididymitis (testicle infection), and testicular masses, detect thyroid and parathyroid glands nodules, growths, and tumors, image the breasts and to guide biopsy of breast masses in order to evaluate for breast cancer and also to help find certain types of foreign bodies that may become lodged in the skin. Ultrasound machine is now globally used in anesthesiology as a diagnostic tool as well as for carrying out procedures. It is the standard of care for peripheral nerve blocks and central vascular access.
First thing when buying an ultrasound, you must know how you intend to use the ultrasound machine. The use case depends on type of patients you are treating or the type of cases you are referring away to others if you do not have the right diagnostic equipment.
It may be great to have one machine which does everything, but either no such machine exists or it will be too expensive. That's because not all ultrasounds are built alike every machine is built with a specific use in mind and has its own strengths and weaknesses. That is why identifying your specific use is critical. Are you using the ultrasound for cardiology, vascular, OB/GYN, urology, anesthesia or something else? Your answer will help you make the right decision.
Now it may sound simple. After all, the sonologist who is going to use the machine should know, right? However very often in a multi-specialty hospital the initial purchase related work is done by the bio-medical or purchase department or sometimes a physician colleague, who is not entirely clear about the overall case mix of the hospital and hence what sort of use the ultrasound machine is intended for. Therefore it is better to sit down with a checklist and document requirements and decisions and carry out an extensive ultrasound machine comparison.
What probes/ transducers are required?
The probes required are directly dependent on the type of cases you are going to be doing. A transducer or probe is a key part of ultrasound imaging. There are ultrasound transducers in different shapes, sizes and with diverse features for effective imaging of different body parts. Probes can be either passed over the surface of the body externally or can be inserted into an orifice, such as the rectum or vagina so as to get a closer look. The ultrasound transducers differ in design depending on their piezoelectric crystal arrangement, aperture (footprint) & frequency at which they work.
There are mainly four basic types of probes used:
Linear probes – are generally high frequency better for imaging superficial structures & vessels also called vascular probes. Linear transducers, for example, are used for things like vascular examinations, Breast, Thyroid, orthopedics, small parts and measuring body fat.
Convex or Curvilinear probes – have widened footprint and lower frequency for transabdominal imaging & widen the field of view. Convex transducers are suitable for diagnosis of organs and abdominal examinations especially in urology, obstetrics & gynecology. Micro convex probes have much smaller footprint and typically used for neonatal and paediatrics applications.
Phase array probes – Phased Array Transducer has a small footprint and low frequency. Phased Array transducers are used for getting between ribs such as cardiac ultrasound, including Transesophageal examinations, abdominal examinations, Brain examinations etc.
Endocavitary probes – E.g. Transesophageal (TEE), transvaginal & transrectal probes are have a small footprint and are inserted through the related body orifices to examine organs more closely.
3D & 4D ultrasound probes help in more detailed imaging in terms of volume data acquisition, volume display & analysis and multi-planar imaging of organs. In other words, assessing multiple 2-D image planes simultaneously. 3D imaging allows fetal structures and internal anatomy to be visualized as static 3D images. However, 4D ultrasound allows us to add live streaming video of the images, showing the motion of the fetal heart wall or valves, or blood flow in various vessels. It can be seen as 3D ultrasound in live motion. Sophisticated software is used to harness the 2D data collected and create 3D and 4D presentations.
For most of the clinical diagnostic requirements however, 2D probes and images suffice.
E.g in case of OB/GYN specialty, a 2D Convex and an endo-cavity probe are sufficient to examine foetus during pregnancy, ovary, uterus, fallopian tubes and other organs for gynecological purposes. However, some nursing homes may want to share a 3D picture showing a more recognizable face of the baby or even a 4D moving video image to please expecting parents. So even though it adds no value clinically speaking one may have to spend more for the 3D/4D ultrasound machine.
On the other hand using software for automated Intima-Media thickness measurement may prove to be highly useful due to significant improvement in diagnosis accuracy for Carotid atherosclerosis. What features and software are worth spending more money on? That is the next question we should be considering.
What are the features and software required?
Once the intended use or application is identified, then identifying specific features important to the care and expected standards follows. There are many features and software that could enhance diagnosis ability such as 3D/4D, Doppler studies, Auto IMT for vascular, which helps automatically measure the intima, Speckle reduction imaging or advanced speckle reduction imaging, spatial compound imaging, elastography etc.
A 2D-mode is the default mode. It is a 2 dimensional cross sectional view of the structures/ organs being imaged and is made up of many B-mode scan lines. This mode is sufficient to assess all organs and structures including measurement of cardiac chamber dimensions, valvular structures etc. However it does not resolve rapid movements well. Hence, if you need to be detecting rapid movements of the underlying organs, you need M-mode which is very good at temporal resolution. The M-mode is commonly used for measuring chamber dimensions and calculating fractional shortening and ejection fraction etc. Similarly colour Doppler is used for detecting velocity and direction of blood flows. For better endocardial definition, better resolution even at greater depths and reduced near field clutter in echocardiography tissue harmonic imaging is used.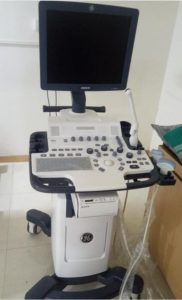 Real-time spatial compound imaging shows improved image quality compared with conventional ultrasound, primarily because of reduction of speckle, clutter, and other acoustic artifacts. Real-time spatial compound imaging can provide improved contrast resolution and tissue differentiation that is beneficial for imaging the breast, peripheral blood vessels, and musculoskeletal injuries.
Elastography gives an idea whether the tissue is hard or soft in turn indicating presence or status of disease. For e.g cancerous tissues would be harder than normal tissues. Elastography is not only non-invasive but also particularly advantageous in cases like where fibrosis is diffused so that a biopsy can easily miss sampling the diseased tissue. This may result in a false negative misdiagnosis.
The software installed on the machine can change its capabilities, which is why this is the most important item to consider in ultrasound machine comparison. Some applications can improve image quality significantly and others include analytical tools that can help providers identify patterns within an image, improving accuracy of diagnosis. There's a wide range of applications available, many of them really nice to have, but they need to be weighed against actual need, depending on the type of cases you are mostly expecting to see and diagnose.
Do you need a portable ultrasound machine?
At this point, you have identified how you are going to use the ultrasound machine, the probes you need, and the features you need. Now is the time to decide if a portable machine, as opposed to a stationary console, is the right choice. Portability is an important feature for ultrasound machine comparison.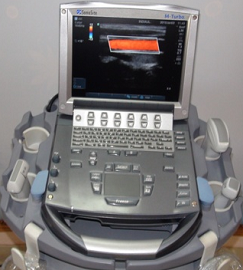 In a multi-specialty hospital it needs to be clear if the machine is going to be moved around often between ICU, OT and OPD or even for camps. If so, you need a portable machine, as stationary console based sonography machine would be too cumbersome to move around and may get damaged. However, one must be aware that convenience of mobility comes at the cost of limited features, image quality, probe options and form-factor (smaller keyboard and display etc.)
While choosing a portable ultrasound, we have to be aware of the limitations and disadvantages. A portable ultrasound will:
not have the same image quality and probe options as a console ultrasound
have limited software features and options as compared to a console ultrasound
have small keyboard and monitor like a laptop
Could have similar footprint as a console ultrasound due to use of a cart to move it around.
How good is the After Sales Support?
If you are purchasing new ultrasound machine make sure you negotiate the price including 2-3 years of warranty. If in case you are considering used/ refurbished ultrasound machine, you need to not only check availability of after sales service support, but also track record of the refurbisher/seller in the market & spares availability with them. This goes beyond ultrasound machine comparison on features per se.
What is your budget?
The pricing of ultrasound machines vary widely starting from basic all-purpose models to high-end sophisticated machines. Decision really needs to be made depending on the most important needs vs the budget you have.
General Parameters for ultrasound machine comparison

Other important parameters to consider are things like:
Dimensions and weight of the machine – Even if the machine is not going to be moved around, you need to see if the machine is going to occupy too much space.
If you are worried about uninterrupted power supply, battery back-up and duration is a parameter to be checked out. This is especially pertinent in case of portable machines.
Image storage capacity and ease of transfer, ports available, DICOM compatibility and perhaps even integration with electronic medical records or other hospital information systems would be important considerations.
There are many other parameters such integrated gel warmer, printer, zoom other peripheral devices connectivity etc. depending on your preferences and needs that need to be listed and checked before buying.