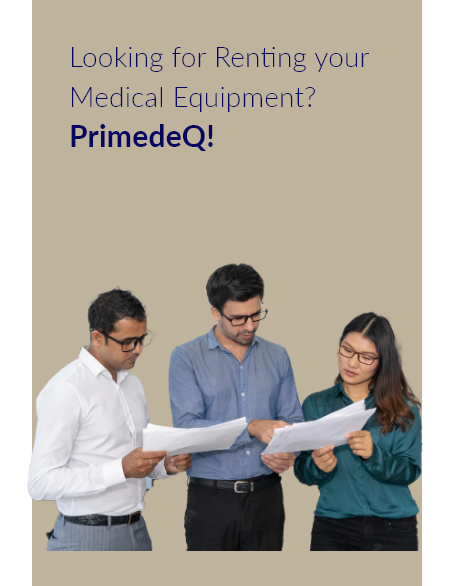 Medical Equipment for Rent at lowest price
All items available on Rental basis in Bangalore, Hyderabad and Chennai. Should you not find any item that you need listed below, please call us at +918971223957 or +917019759765 or submit your request and we will call you right back.
Refundable deposit- is payable upfront. It will be returned upon receiving the product in good condition or with deduction based on extent of damage.
Cost of replacement- is market value of the product incase of non-return, total damage or theft.
Delivery & Pick up charges- inaddition to rental charges  - Rs 1000  for all items.
All charges are in Rs and are exclusive of applicable taxes.
Name of equipment

Daily

Weekly

Monthly

Refundable deposit

Cost of replacement

Home use devices for rent

NST or Fetal Heart Monitor Rental
Call 7019759765 for price
Oxygen Concentrator Rental
Call 7019759765 for price
CPAP rental
Call 7019759765 for price
BiPAP rental
Call 7019759765 for price
Enteral Feeding Pump rental
NA
NA
8000
10000
50000
Lymphedema/ DVT Pump rental
Call 7019759765 for price
Diagnostic Equipment for Camp
Bonedensitometer (BMD) Rental (Available with technician and reporting)
Available
On request
On request
-
-
Neonatal Care
Phototherapy unit

1800

10800
30000
10000
60000
Baby Warmer - GE
1500
7000
27000
10000
90000
Neonatal Ventilator - Drager Babylog/Siemens 300
14000
35000
Humidifier ( Kit extra)
Contact for details
Bubble cpap
Contact for details
Critical Care
Infusion Pump - Fresenius/Medcaptain
1000
4200
15000
10000
45000
Infusion pump - Contec
500
3500
5000
10000
Syringe Pump - Fresenius/Medcaptain
700
3500
12000
10000
35000
Syringe pump - Omya
500
3500
5000
10000
Patient Monitor - Mindray
1500
7000
27000
10000
65000
Patient Monitor - Omya,Contec, Bionet
800
5600
8000
10000
Adult Ventilator - GE
2000
10500
30000
25000
650000
CPAP - Fisher & Paykel
1000
4200
15000
10000
55000
Adult Ventilator - Vella
Not Available
14000
35000
35000
Pulse oximeter - Bionet , Contec
300
3000
3500
10000
ECG - Bionet , Contec
1000
7000
15000
10000
Defibrillator - Physiocontrol , Zoll
1000
7000
8000
10000
Physiotherapy

CPM machine rental
Contact for details
ENT Surgery
Coblator / Coagulator on rent/ Surgery
8000
Middle ear titanium prosthesis cutter and sizer
Contact for details
Cardiac Surgery
Heart Lung Machine - Sarns rental
Contact for details
Ballon Pump - Datascope CS100
Contact for details
IABP rental
Contact for details
Heater cooler - Hemothron
Contact for details