With the Covid Wave 2, oxygen concentrators have been much in demand and many have purchased them for personal use. Like any other electronic equipment, proper usage and care is necessary for the oxygen concentrators to perform to specification and deliver oxygen at the correct flow rate and concentration. In this article we cover common problems with oxygen concentrators that you may face, how to recognise them and troubleshoot successfully.
Some common problems you may face while using Oxygen Concentrators are:
Low oxygen flow problem with oxygen concentrators
Naturally we expect that the oxygen concentrator should deliver oxygen at the flow rates settings at all times. However, if at times the user is feeling that he/she is not getting enough oxygen as usual or as expected, the following needs to be checked: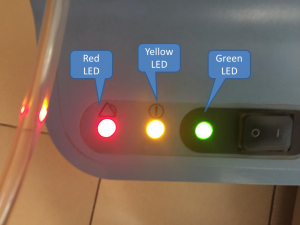 If the green LED is on and alarm is not beeping – Good news! The machine is working properly. So just check if the nasal cannula or tubing is properly placed. Cannula or tubing is not coming loose or there is no kink anywhere. There should not be any leak or block to the oxygen flow from the machine to the user.
If however the Yellow LED is on and you can hear the beep, it means the machine is not working normally. This is an indication of low oxygen and hence the alarm. It is time to call the service engineer before the device performance worsens.
Low oxygen purity problem with oxygen concentrators
Most oxygen concentrators promise oxygen concentration (or Purity as some call it) between 90-96% when the machine is working normally. There are some models where the oxygen concentration falls with increase in Flow rate by design. Please check the manufacturer's specifications.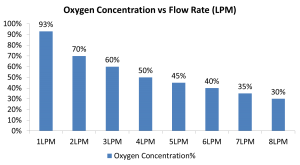 The Yellow LED will come on, as mentioned before, if the oxygen concentration is beginning to fall below normal. If not addressed the performance may start deteriorating. When the Red LED is on and alarm is beeping continuously, the oxygen purity is way below normal already. You must switch to alternate supply of oxygen immediately and call the service engineer.
If the intake vent is clogged or blocked, it can affect the oxygen purity. Hence periodic cleaning of the filters is essential.
How does Oxygen Concentrator work?
An oxygen concentrator takes in ambient air, removes nitrogen from it to supply an oxygen-enriched gas (usually 90-96% oxygen). The main components of an oxygen concentrator are air compressor, two cylinders filled with zeolite pellets or beads, a pressure equalizing reservoir, sensors, valves and tubes and an inlet filter to filter air at the intake.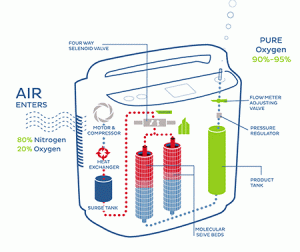 It is the zeolite pellets (molecular sieve beds) which adsorb nitrogen and hence help produce oxygen rich gas. Atmospheric air has 78% Nitrogen, 21% Oxygen and 1% a mix of other gases. If Nitrogen is removed from the ambient air, % of oxygen in rest of the gas automatically becomes 95%+.
Most manufacturers indicate an average device life of about 5 years or 10000 hours based mainly on molecular sieve bed life. However, if the Sieve bed life is over, then even if the machine has hardly been used, problem with oxygen concentrators is it may no longer produce oxygen with adequate purity.
We come across many customers who say the machine has not been used at all for a year or two and it is not working now. The reason is as mentioned above, but not rectifiable, unless the sieve bed/ zeolite pellets are replaced. Hence, even if it is not needed, it is advisable to run an oxygen concentrator for about 30-60 minutes every month or so, to keep it functional.
Oxygen Concentrator is heating up
Often one of the problems customers have with oxygen concentrators is that it is heating up just after 5-6 hours of use. The body of the machine may be hot to touch. While all oxygen concentrators come with a heat safety or cut-off device, if you feel the machine is too hot, it is advisable to switch it off and give it a rest for 20-30 minutes. On the whole there is nothing to worry about if an oxygen concentrator heats up.
Like all electronic devices, oxygen concentrators need to be kept at a reasonable temperature in order to prevent overheating or becoming too cold for use. All machines come with operating instructions regarding environmental temperature. E.g. Philips Everflo user manual indicates that the operating temperature should be within 13-320C. Please ensure that the atmospheric temperature of the room is maintained as per manufacturer instructions. There should also be adequate ventilation to let out heat produced by the compressor.
The concentrator may stop working temporarily if internal temperature range is exceeded. In such a case, moving it out of extremely hot or cold areas will help.
Other common errors in oxygen concentrators
Other common alarms and system error that you may encounter as problems with oxygen concentrators are:
Upon switching the machine on, Audible Alarm is beeping continuously but none of the LEDs are on – This means the machine is not receiving power. Check whether the power cord plug is connected to the machine at all, or is it properly inserted in the electrical socket outlet or check if the outlet is delivering power.
If the machine is not working, alarm is beeping continuously and all 3 LEDs are on – the machine is malfunctioning. There may be an internal part failure. You need to call the service engineer.
A yellow or red LED is blinking and alarm is intermittent. Such malfunctioning could happen because of water/ moisture seepage inside or dust, upsetting the working of internal sensors.
You may be getting an oxygen error indicating that oxygen output is low or isn't working as it should. You may be getting other inconsistent alarms.
Although it could be a complex issue with the device, try turning it OFF and ON again to see if the error message goes away. Sometimes, the system needs rebooting. However, if the issues persist, it is time to switch to alternate/ back-up source of oxygen and call then service engineer.
You can always check the user manual for further troubleshooting information too.
Read for information on Cleaning, Disinfection & Regular Maintenance of Oxygen Concentrators.
Stay healthy! Stay Safe!
---
PrimedeQ is an e-Marketplace for medical equipment. We offer all types of used / refurbished medical equipment on Sale, including New Oxygen Concentrators, used oxygen concentrators, X-Ray, TMT, ECG, anesthesia machine, ultrasound machines, endoscope and ultrasound probe repair services etc. Contact us on +917019759765 or +918971223957 for any medical equipment or related spares & services. Click here to rent or repair oxygen concentrators.