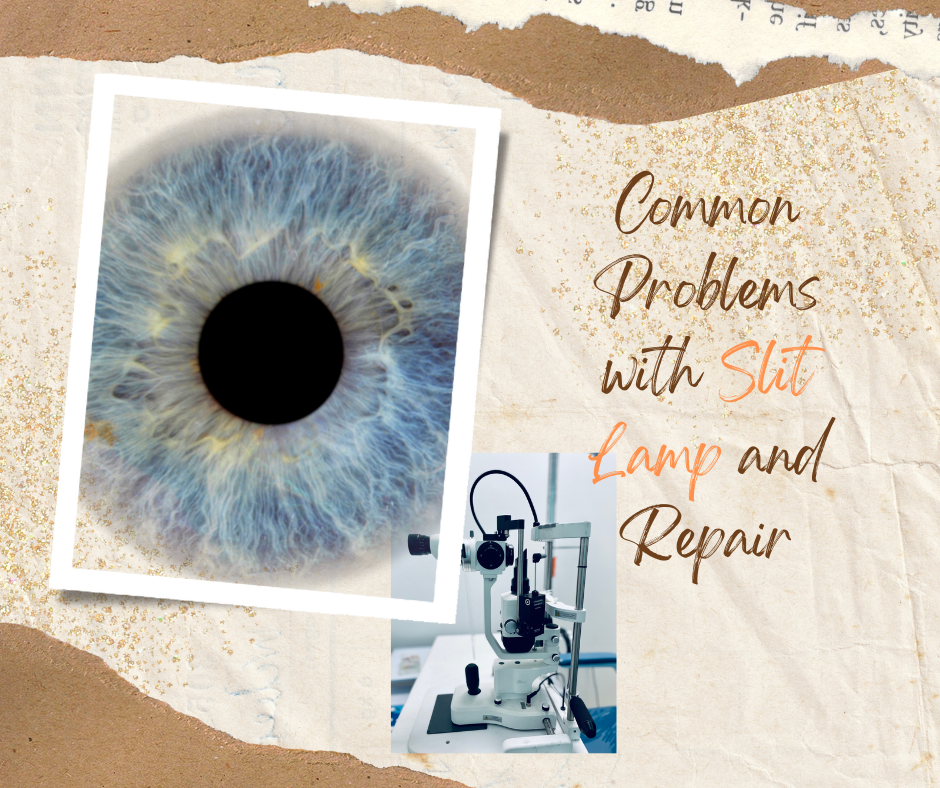 A Slit Lamp is one of the most commonly used medical equipment by ophthalmologists. It is used to examine almost all parts of the eye in anterior as well as posterior segments of the eye. It is essentially a special microscope with a high-intensity light source shining it on the patient eye through a thin slit. Obviously the illumination and the combination of lenses that form the microscope are the most important parts of the slit lamp. Proper care and maintenance of these delicate components is crucial for long life of the equipment. Common problems faced with slit lamp and slit lamp repair needs include light source/illumination issues, slit formation and issues related to knob controls and smoothness of machine movements.
Main Components of a Slit Lamp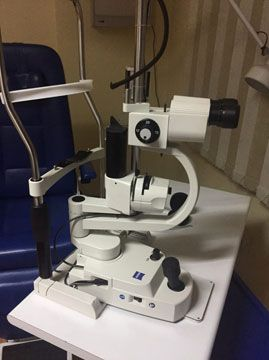 The Slit lamp has three main components:
Illumination System – The illumination system consists of the high-intensity light source, power supply system, slit aperture along with controls for slit width, slit height, diffusor, light filters, illumination unit tilting, rotating arm for de-centring etc.
Observation System – The observation system is essentially the microscope consisting of the magnification system that can offer magnifications ranging from 6-40 times, the eye-piece unit and various controls for adjustment of eye positioning, inter-pupillary distance, refraction etc.
The mechanical structure and controls – The mechanical structure includes the foundation or table of the equipment on which the illumination & observation systems are mounted. It also houses the joystick, chin/ forehead rest plates and various knobs, handles, switches, levers and other controls for required movements of the unit for proper patient positioning and testing.
Common Slit lamp Repair Issues
Here, we will talk about common problems faced while using Slit lamp and possible causes.
No illumination – This could be due to burnt-out bulb, blown fuse or faulty power system. Depending on the problem, one may have to replace the bulb or fuse or check the power socket, power cable, switch, plug regulator etc.
Slit is dark or not bright enough for examination – This could be because of filter lever, bulb or voltage selector not being in correct position. If cleaning and maintenance have not been regular, the reflector surface could be dirty or reflecting mirror coating could be oxidised and may need cleaning or changing.
Slit aperture not holding or closing on its own – Slit width control knob is loose and needs tightening.
Faults or difficulties in other controls and movements – e.g..
Brightness control for bulb.
Up and down table top movement.
Up and down Chin rest adjustment.
Smooth Joystick motion up and down, forward and backward, and left and right.
Slit controls – width, length and inclination.
Illumination rotation arm – proper rotation and locking
Microscope rotation arm – proper rotation and locking
Illumination tilting latch – proper angle variation
Cross slide movement
Fixation target movement
Filter selection lever
Magnification lever
Pupillary distance adjustment
Regular calibration, cleaning, lubrication and adjustments of control systems are required for overall smooth functioning of the slit lamp.
Reliable Slit Lamp Repair Services in India
Should you face any of the above problems with your slit lamp, contact us at 7019759765 or 8971223957! PrimedeQ can assist you with bulb or fuse replacements, power supply problems, knobs and lever malfunctioning or any other types of Slit Lamp repair and general servicing.
—————————————————————————————————————————
PrimedeQ is an e-Marketplace for buying, selling, renting, servicing and spares of medical equipment. We offer all types of used / refurbished medical equipment , including Slit Lamp, A-Scan machine and other Ophthalmology equipment, endoscopes, OT equipment, Laparoscopic Equipment,  Lab equipment, X-Ray, TMT, ECG, anesthesia machine, ultrasound machines etc.  We offer  repair services for all types of medical equipment including Lab equipment, microdebrider,  laparoscope , x-ray tube, rigid and flexible endoscopes as well as EUS (Endoscopic Ultrasound Units) and ultrasound probe etc.