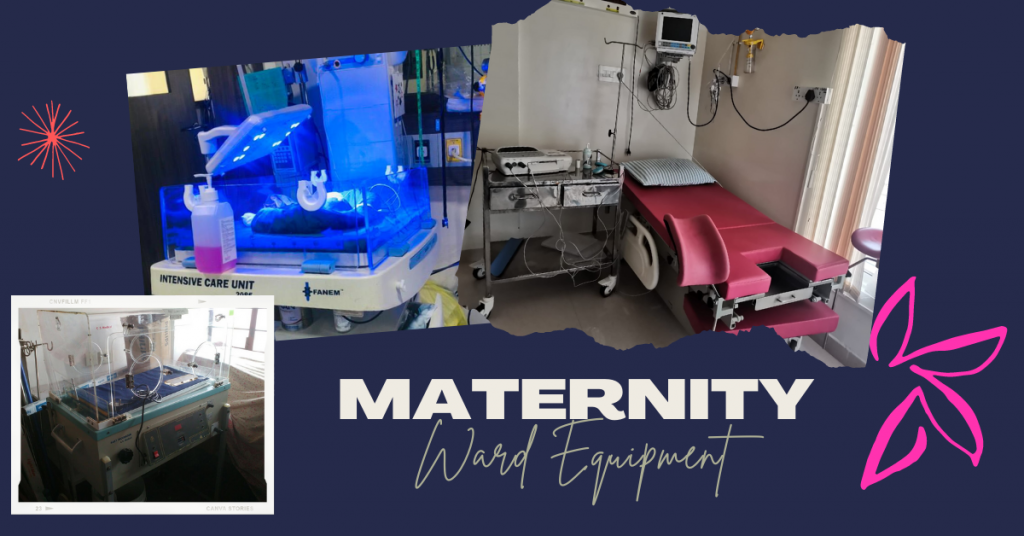 Planning to set-up women & child unit? Check-out what are the main medical equipment needed for a maternity ward and NICU. Maternity centres typically take care of mother and child starting from preconception till birth of the baby.
List of departments & Equipment for Maternity Ward
A typical maternity and child set-up would have the following main departments:
LABOUR ROOM – Labour Room is used to retain and monitor when a pregnant women is going into labour naturally or because she has been induced.
LABOUR OPERATION THEATRE & CSSD – In case of emergency if operation / caesarean/ C-section needs to be done, patient is immediately shifted to Operation theatre for delivering the baby. CSSD in a hospital receives, stores, processes, distribute and control professional supplies and equipment, both sterile and non-sterile to and from all departments of hospital for the care and safety of the patients
INPATIENT / MATERNITY WARD – Once the baby is delivered, mother and baby are shifted to the ward for some days before going home.
Labour rooms must have basic facilities for the new born such as infant warmer and even perhaps phototherapy unit for treating new borns with jaundice. However if the hospital plans to handle more acute cases, a Neonatal Intensive Care Unit could be part of the plan.
NICU – Often, newborns are delivered prematurely or underweight. Then he/she is shifted to neonatal intensive care unit (NICU) for further care and observation.
Medical equipment for maternity ward needed in setting-up maternity hospital are well known. Read our blog for more details of all equipment required. A list of some common equipment and instruments for labour room can also be found here.
If you are looking for information related to cost for budgeting & planning a maternity centre click the following button & download.
Download a list of equipment required for a Maternity Ward & NICU with cost estimates @ just Rs 500.
Download Maternity & NICU Equipment List for just Rs 500
Shared Services in a Maternity Hospital
If the maternity and NICU facilities are part of a larger multi-specialty hospital other common shared-services would be already present. However if the hospital is a stand-alone maternity & child facility, then OPD, Casualty, CSSD, basic lab & diagnostics facility relevant to maternity cases, pharmacy and other common facilities need to be added. It may also be necessary to have a few High Dependency Unit (HDU) beds to sometimes take care of acute patients (Mothers) during pregnancy or post-delivery.
| | |
| --- | --- |
| Casualty | Patient Monitor ❖ Pulseoximeter ❖ BP Apparatus ❖ Weighing Machine(Adult/ Ped) ❖ Patient Bed ❖ Defibrillator |
| OPD | Ultrasound Machine ❖ Spot light ❖ Foetal Doppler ❖ BP apparatus ❖ Weighing machine adult ❖ Weighing machine PED |
| HDU | Patient Monitor ❖ Syringe pump ❖ Infusion pump ❖ Patient Bed |
| CSSD | Autoclave/Steriliser ❖ Sealing Machine ❖ Fumigator |
Which equipment should you pay more for?
Most maternity facilities have similar equipment. What equipment can differentiate your centre from the other? Which equipment can give your centre the edge over others?
While deciding purchase of equipment for maternity ward or hospital special attention should be given to the following:
Ultrasound / Sonography machine
When it comes to ultrasound machine for obstetrics or women's health, buyers always ask for 3D/4D scan capability. Is this essential?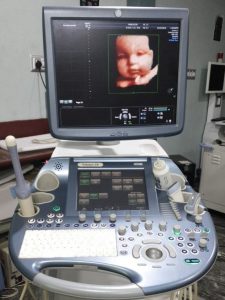 Let's look at what are the various ultrasound tests commonly done during pregnancy and their purpose.
The first ultrasound investigation is usually done between 11-13 weeks of pregnancy,
To check if there may be one or more fetuses.
To more accurately assess baby's gestational age and estimated due date.
To confirm there is foetal heartbeat
Check position of placenta – it is in uterus (and not ectopic or tubular pregnancy).
Baby's anatomy development and general health appropriate for that stage – if the skull, limbs, organs, and umbilical cord are developing as expected.
In the second trimester, in the middle of the pregnancy, usually between week 18 and week 22, a detailed anatomy scan is done. This ultrasound is more interesting for parents since the foetus is relatively more developed and looks like a baby in 3D/4D scans. A clearer picture is visible of all body parts and organs. The purpose of this test is to:
Assess baby's development appropriate for that stage, by measuring the size of the baby and checking all the major organs, measuring the level of amniotic fluid and looking at the location of placenta again.
For routine ultrasound cases a 2D ultrasound is more than sufficient, as the purpose is to basically assess anatomical development, by measuring size, assessing position etc. Sometimes a closer examination may be medically necessary, if there is any suspected anomaly. 3D/4D ultrasounds may prove to be more useful in few such cases. In most cases though, nowadays 3D/ 4D ultrasounds are popular among obstetricians and young parents, as they enable keepsake pictures or videos of their baby.
Additional ultrasounds over the course of pregnancy may be necessary for various reasons such as:
Routine ultrasound as detailed above, indicates some anomaly requiring further investigations
Pregnancy is considered high-risk
Carrying twins or multiples
Risk of changes in the cervix (thinning, opening or shortening) or risk of pre-term labour
There is spotting etc.
If you are planning to take on complicated pregnancies and want to equip yourselves with an Ultrasound machine capable of doing advanced ultrasound tests such as Nuchal Translucency Screening (NT), Chorionic Villus Sampling (CVS), Amniocentesis etc., you need to consider ultrasound machines dedicated to women's health.
While most ultrasound machines including entry level shared-service ultrasound machines (such as the GE logiq series) have capability to do routine pregnancy ultrasound tests and transvaginal scans, they may not have feature to perform NT screening and other advanced tests. However, ultrasound machines dedicated for Obstetrics/ women's health such as GE Voluson series even at the entry level e.g GE Voluson P6 or P8 support Auto NT screening, Foetal Echo, Free hand 3D. Advanced systems even provide for HD (High-Defnition) Live images and videos, Spatio-temporal image correlation (STIC) – an advanced approach for clinical assessment of the foetal heart, Auto follicle 2D/3D measurement etc.
Read more… https://www.primedeq.com/blog/top-4-ultrasound-tests-to-know-during-pregnancy/
NST machine/ Foetal Heart monitoring
There has been constant emphasis on improving Maternal health and reducing Infant Mortality globally. Complicated pregnancies are on the rise just as increase in fertility treatments. The importance of regular monitoring of foetal health and that of the Mother is growing. One of the most commonly monitored parameters throughout the pregnancy and especially in advanced stages is the Foetal Heart rate. If foetal heart rate is slowing down or abnormal, the baby may be in distress.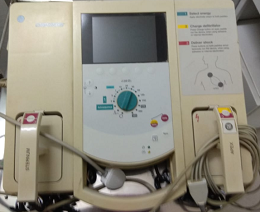 Foetal distress usually indicates the baby is not getting enough oxygen. Without enough oxygen the stress of labour could threaten an infant's health or even survival. Hence it is crucial to detect foetal distress at the earliest and ensure early delivery for the infant's welfare.
Latest advancement in Foetal heart monitoring includes devices using
EMG signals rather than ultrasound Doppler based technology, improving accuracy,
AI and cloud storage of data and analytics based alerts,
Wireless, beltless, water-proof patch
Capability to detect FHR for twins etc in case of multiple pregnancies.
Remote monitoring
One-time placement, no re-positioning of electrodes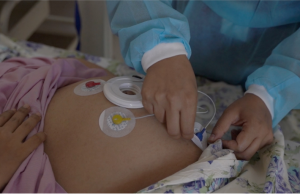 Foetal Heart Monitoring devices are also available on rent to be used at home. Call 7019759765 for more details on devices on rent.
Read more… https://www.primedeq.com/blog/latest-in-wireless-fetal-heart-monitor/
Well-equipped NICU
NICU equipment such as Ventilator, Incubator, Transport Incubator and/or transport ventilator, baby puff, bubble cpap etc. are necessary for a more advanced NICU facility.
Download a list of equipment required for a Maternity Ward & NICU with cost estimates @ just Rs 500.
Download Maternity & NICU Equipment List for just Rs 500
——————————————————————————————–
PrimedeQ is an e-Marketplace for medical equipment. We offer all types of used / refurbished medical equipment on Sale, including maternity equipment & NICU equipment. Contact us on +917019759765 or +918971223957 for any medical equipment or related spares & services.