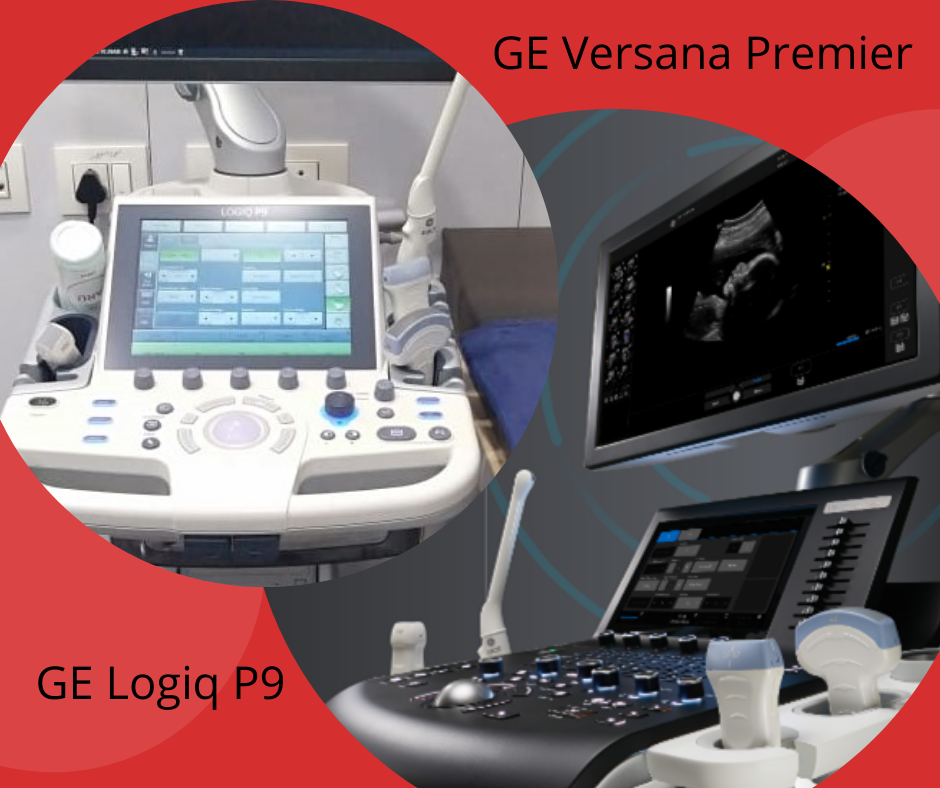 Are you looking to buy a new ultrasound machine for your hospital or diagnostic centre? May be you have great offers on GE Versana Premier and GE Logiq P9   and you are wondering how they compare…then you have come to the right place. Which of the two machines should you go for? This blog may give you some information to help decide.
GE Versana Premier and GE Logiq P9 are both great ultrasound machines, catering to applications such as – Abdominal, OB/GYN, Breast, Small Parts, Musculoskeletal, Vascular, Venous, Urology, TCD, Cardiac, General Imaging and Pediatrics.
The Logiq series has been very successful in the general radiology platform. This series is created basically for customers whose work is predominantly on general imaging. The new Versana Series on the other hand seems to be a shared service system with a lot of popular features migrated from other high-end platforms like GE Voluson series.
GE Healthcare launched Versana Essential in 2018 and Versana Premier joined the Club in 2019. Hence GE Versana series is very recent & current ult­­rasound machine.
GE Logiq P Series was launched in 2006 with Logiq P5/P6. Even though Logiq P7 & P9 are successors to P5 / P6, they are not to be mistaken for just upgrades. In fact, launched in 2016, they are cast from a totally new technology mould and are a different generation altogether.
GE Versana Premier and GE Logiq P9 – Features Comparison
Image Optimization – Whizz is a new feature on Versana which optimizes image quality dynamically while scanning whereas Logiq P7/P9 offers auto tissue optimization which optimizes gains and contrast levels on static images. Logiq P9 features extremely useful digital TGC, saving user time very much.
3D scan – A new feature in 3D- Scan coach is available in Versana which allows you to find the correct scan plane .This is however not available in Logiq series.
TIRADS and BIRADS feature is a great feature to analyse the structural characterization in Breast and Thyroids to look at malignancies and is available in Versana and not in Logiq series
Auto measurements – is a feature in Versana that helps with faster scans and better productivity. This feature is available on both 2D and Volume (not available in Logiq series)
Fusion Overlay – for reference of landmarks is a remarkable feature for targeting deep seated lesions while performing biopsies and is now migrated from high-end series to Versana Premier.
Whizz Bladder – is a new feature for automated bladder measurements for faster pre-void and post void measurements which is not available in Logiq series.
B- Flow utilizes grayscale imaging for looking at the blood flow and is independent of colour Doppler scanning angle hence providing high frame rates. B flow is available on all platforms ,
Logiq View – is used for stitching multiple images to form one single image, useful for covering a big lesion or a bigger scan area. This is available in all platforms
Auto IMT – Auto measurement of intima media thickness for tracking atherosclerosis and is available across all platforms
Scan Assistant – is customizing scans and measurements according to user preference to decrease the number of key strokes and is available with both Versana And Logiq series
Needle Recognition for better visualisation of biopsy needle to perform accurate biopsies is available in Versana but not in Logiq.
VOCAL – a 3D tool to calculate volume in complete structures is a feature in Voluson which is migrated to Versana and is not available in Logiq.
Tomographic Ultrasound Imaging (TUI) – is a 3D tool to assess slices within the volume, a very useful Voluson feature frequently used in OB/GYN to look at spinal defects etc.
Sono Biometry – is an automatic tool that suggest calliper placements. This helps reduce keystrokes and automates standard fetal measurements like BPD ,HC ,AC , FL.
With GE Logiq P9, personalized digital user interface enables customization of workflow preferences with user presets.
GE Versana Premier and GE Logiq P9 – Hardware Comparison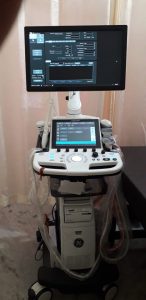 Both GE Logiq P9 and Versana Premier feature high-end hardware options such as an adjustable LCD monitor,  LCD touchscreen, 4 active probe ports, a gel warmer, storage shelf, wireless LAN, multiple USB ports, fully articulating arm and front & rear handles. Power assistant supports scanning for up to one hour on battery alone with the new extended battery option in GE Logiq P9. GE Versana Premier also has an integrated battery.
There may be some differences in dimensions e.g most Versana Premier comes with 19 inch High Resolution LCD monitor and 8.4 inch High Resolution Colour Touchscreen, while some GE Logiq P9 also comes with 21.5-inch LCD monitor, a 10.4-inch LCD touchscreen.
One can even operate the Logiq P9 ultrasound system remotely from tablet or phone that has LOGIQ Smart App loaded and includes, Major modes, Freeze/print, Depth, Gain, ROI placement and Dual Image.
Conclusion
GE Versana Premier and GE Logiq P9 are both comparable models. Although P7/P9 remains the same on Architecture, the highlight on Logiq P9 is matrix probes compatibility and contrast studies. GE Logiq P9 system is capable of doing contrast studies unlike Logiq P7/Versana Premier. Probes can be interchanged (except matrix) on these systems. GE Logiq P9 has agile beamformer with much higher number of processing channels and matrix probes compatibility, giving it an edge over Versana Premier in doing contrast studies.
On the whole – while GE Logiq P9 is designed for performing highest-end advanced Radiology work, the GE Versana Premier is a Complete Solution with automations aiming to provide superb ease of use, speed and efficiencies of scanning without compromising image quality. It also comprehensive, covering all common applications and many useful features migrated from high end systems like GE Voluson series, so as to accomplish a lot of high-end gynecology work and fetal scans etc.– normally not possible in radiology focussed systems.
——————————————————————————————————————————
PrimedeQ is an e-Marketplace for buying, selling, renting, servicing and spares of medical equipment. We offer all types of used / refurbished medical equipment , including maternity equipment,  Lab equipment, X-Ray, TMT, ECG, anesthesia machine, ultrasound machines, endoscope and ultrasound probe repair services etc.