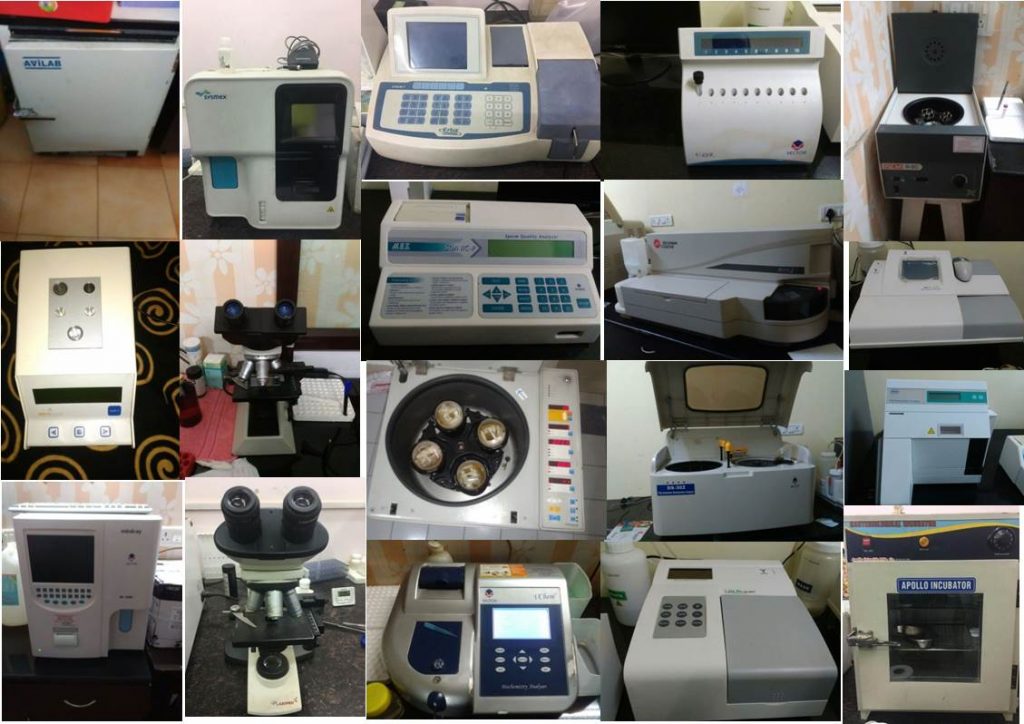 Planning to set up a medical diagnostic centre? Wondering where to get a diagnostic lab equipment list? Want to know what is the cost of setting up a diagnostic centre? What are the other requirements to be taken care of when setting up a diagnostic Lab?
If yes, you have come to the right place. Read on for information on diagnostic centre equipment and a good sense of how much it would cost.
Labs are classified by NABL into
small (less than 100 patients per day),
medium (101-400 patients per day) and
large (>400 patients per day)
Most of the discussion here will be related to small & medium Labs. What are the basic requirements for a small lab?
When setting up a medical diagnostic centre, aside from worrying about diagnostic equipment cost, it might be useful to consider all aspects like, scope of work planned in the Lab, legal & statutory compliance applicable, staffing and infrastructure planning,  lab information management System, NABL accreditation provisioning etc. Read to know more about planning for a diagnostic centre.
Diagnostic Lab Equipment List
Coming to the crux of the matter… What medical equipment are required to set-up a diagnostic path lab? Here is a list of equipment required to set-up a diagnostic path lab covering most of the segments:
Hematology Analyser / Cell Counter
Bio-chemistry Analyser
Electrolyte Analyser
Urine Analyser
Coagulometer
HB1Ac machine
Eliza Plate Washer & Reader
ImmunoAssay Analyser
ESR Analyser
Serum protein analyzer
Microscope
Incubator
Centrifuge
Tissue Diagnostics

Microtome
Paraffin wax bath
Grossing work station
Tissue floatation Bath
Tissue processor

Microbiology

Automated Microbiology System
Water Bath
Hot Air Oven
Drying oven
BOD Incubator
Humidity Cabinet
Bio Safety cabinet
Laminar Airflow

Freezer/ Refrigerator
Autoclave
Lab balance, mixers, shakers, stirrers, pipettes
And the list can go on… Read more – 29 Equipment's Every Microbiology Laboratory Should Have
So do you need all these equipment to set-up a lab? Not necessarily.
Now, what equipment you need for the diagnostic lab depends on the scope of work you wish to do. It may be easy to buy all the equipment if you have enough funds, but it is important to have sufficient patient volumes to justify the investments.
Cost of equipment for a small Lab
A very basic small lab setup either in a small location or one serving as a stat lab within a nursing home or hospital will need at least Rs 5-7 lakhs of investment into a 3-part differential cell counter, Semi-automatic biochemistry analyser,Centrifuge,Microscope,Incubator etc.
Cost of refurbished or used equipment, could be half or 65% of New equipment cost.
If you are planning to set-up a Diagnostic Lab and want to know how much it would cost
Download a list of equipment required for a diagnostic lab with cost estimates @ just Rs 500.
Download Equipment List for just Rs 500
For more details on budgets for setting up a medium to large diagnostic centre with lab and radiology equipment read –
---
PrimedeQ is an eMarketplace for medical equipment. We offer all types of refurbished or used lab and  imaging equipment. We also offer in repair & maintenance services at www.Primedeq.com. Contact us at +918971223957 or +917019759765 for all your medical equipment related needs.
---