What equipment you need for the diagnostic lab depends on the scope of work the market demands and you wish to do. It may be easy to buy all the equipment if you have enough funds, but it is important to have sufficient patient volumes to justify the investments. In India specifically, Reagents account for nearly 70% of the IVD market by value, only 30% is instruments and devices. This is the reason why the diagnostic equipment market is largely dominated by reagents-based lease rentals rather than outright sale. This also means that your profitability highly depends on efficient usage of reagents. So how do you decide on scope of work for your lab?
Clinical Pathology is a medical specialty that is concerned with the diagnosis of disease based on the laboratory analysis of bodily fluids, such as blood, urine, and tissue or extracts using chemistry, microbiology, hematology and molecular pathology. Hence, the main departments one will find in a diagnostic lab are Hematology, Biochemistry, Microbiology, Immunology, Serology, Histopathology, Cytopathology etc.
Most commercial labs do not start with a full-fledged facility, simply because there may not be enough market demand for all types of investigations.
Scope of Work for Diagnostic Lab
Based on type of test equipment – the IVD (In-Vitro Diagnostics) market is categorized into immunodiagnostics, clinical chemistry, hematology & Coagulation, Urine analysis, molecular diagnostics, tissue diagnostics and others. The clinical chemistry segment is further divided into basic metabolic panel, liver panel, lipid profile, thyroid function panel, electrolyte panel, specialty chemicals, and others.
Biochemistry, Immunodiagnostics and hematology account for nearly 60-70% of India market for Lab equipment. Biochemistry is the largest segment with close to 25% market share followed by Immunodiagnostics at 22% and hematology. Microbiology, Urinalysis, Coagulation, Molecular Diagnostics, Tissue diagnostics each account for 5-6% or less.
So this should tell us that the most commonly sold equipment are hematology, biochemistry and immunology analysers. Why?
To answer this let us take a look at the most commonly ordered lab investigations.
Most commonly ordered Lab tests
Following are the most commonly ordered tests:
Full Blood Examination/ Complete Blood Count
Also known as a CBC, this test is the most common blood test performed.
INR / Prothrombin Time
Basic Metabolic Panel
This test measures glucose, sodium, potassium, calcium, chloride, carbon dioxide, blood urea nitrogen and creatinine which can help determine blood sugar level, electrolyte and fluid balance as well as kidney function.
Other frequently ordered tests are
Lipid Panel
Liver Panel / LFT
Thyroid Stimulating Hormone
Hemoglobin A1C
Urinalysis
Cultures
If a hospital has a basic level in-house lab, at the very least it should have capability to do CBC & Basic Metabolic Profile and outsource the rest. Hence a cell counter (hematology analyse) and a bio-chemistry analyser are the most basic requirement. If the scope of the lab is wider, based on what test capabilities you are planning, accordingly additional equipment may be considered.
There are so many brands available in the market. How do they compare? Which are the top selling brands in India? Which one should I buy?
Roche Diagnostic
Siemens
Transasia Bio–Medicals Ltd.
Abbott Laboratories
Sysmex Corporation
Thermo Fisher Scientific Inc
bioMérieux
Others
While Roche is the market leader in India with 14% market share, Siemens and TransAsia are not far behind. Most of the brands have presence in all segments of the IVD market; still some are more popular in specific segments.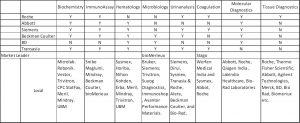 Generally speaking, MNCs occupy ~60 percent share in the IVD market, Indian companies 40 percent. MNCs cater to A&B class diagnostic labs/ hospitals while Indian companies cater to C&D class (A|B|C|D classification based on volume of diagnostic tests done).
Equipment requirement for a small Diagnostic Lab
A diagnostic lab could be set up with a cost of anywhere between Rs 5 lakhs to even 1Crore.
A very basic small lab setup either in a small location (with not more than 20-30 patients a day) or one serving as a stat lab within a nursing home or hospital will need at the minimum the following:
3-part differential cell counter
Semi-automatic biochemistry analyser
Centrifuge
Binocular Microscope
Incubator
Autoclave/ sterilizer
Reagents & Consumables
Refrigerator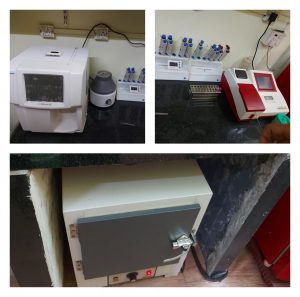 This will help cover basic hematology, biochemistry tests and sample collection & preparation to outsource all other tests. Even if going for minimum specifications and cheapest equipment models, for the above one should budget for at least Rs 5-7 lakhs of investment. If however you are considering refurbished or used equipment, costs could be half of the above.
Beyond the basic set-up you could go on adding equipment based on market scope as discussed earlier and your budget.
Click to know list of diagnostic lab equipment.
Download a list of equipment required for a diagnostic lab with cost estimates @ just Rs 500.
Download Equipment List for just Rs 500