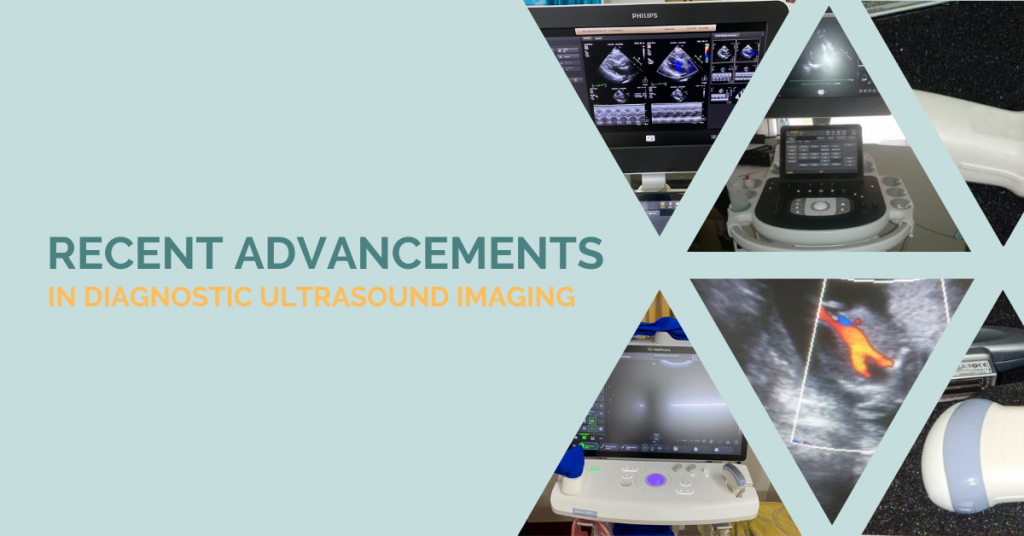 Ultrasound machines have seen prolific use in diagnostic medical imaging. As compared to x-ray based radiology imaging ultrasound based imaging is considered safer. It has found diverse applications in Abdominal, OB/GYN, Small Parts, Musculoskeletal, General Imaging, Superficial, Vascular, Urology, TCD, Cardiac, Pediatrics imaging etc. Ultrasound imaging technology has seen tremendous advancements and improvements in the last two decades. This article covers some of the recent advancements in ultrasound machines used for diagnostic medical imaging – some are already widely commercially available and some still in developmental stages.
AI & advanced pattern recognition algorithms
Automation of time-consuming tasks, quantification and picking out the ideal image slice from a 3-D dataset, visual mapping and annotation of screened anatomy, voice-recognition for hands-free operation are all being performed through artificial intelligence (AI).
E.g. Latest version of the Konica Minolta Sonimage HS1 uses AI-voice recognition for hands-free operation. Mindray Resona 7 also enhances clinical research capabilities with its revolutionary V Flow for vascular hemodynamic evaluation and intelligent plane acquisition from 3D datasets for fetal CNS diagnosis.
Philips Epiq systems use AI for advanced organ modeling, image slicing, and proven quantification to help make ultrasound exams easier. It can extract the optimal scanning slice from 3-D datasets, visual mapping and annotation of screened anatomy with minimal user intervention.
Vscan Extend GE Healthcare's handheld, pocket-sized ultrasound, incorporates DiA Imaging Analysis AI-powered LVivo EF for automated ejection fraction (EF) measurements. EF interpretation today is made through visual estimation based on clinician experience. LVivo EF provides clinicians with left ventricle EF scoring and volume measurements using AI and advanced pattern recognition algorithms helping even less experience clinicians making better assessment of EF. Machine Learning and AI are expected to make big impact on cardiac imaging in future and make the biggest impact on recent advancements in ultrasound machines.
Use of 3-D in ultrasound
3D / 4D Ultrasound is more popular in Maternity or Obstetric scanning mainly due to excitement from parents-to-be to see their baby. The slower frame rates and higher price of 3-D ultrasound machine and probes may have limited its wider adoption in other areas, but 3-D imaging is very useful when used by specialists for procedural planning or guidance. This is because 3D imaging can provide more identifiable anatomical images for clinicians to more accurately plan their intervention or surgery. E.g. ultrasound technology is used to help guide catheter procedures in complex anatomy and fetal anomaly testing like Chorionic Villus Sampling etc.
All the vendors today are trying to improve frame rates to increase adoption of 3D. While 2D ultrasound cannot be written off yet, the market share for 3-D machines is increasing day-by-day.
Even if 3D imaging is slow to gain ground in applications other than maternity, recent advancements in ultrasound machines include other visualization techniques. Newer ultrasound machines are featuring more complex and advanced technologies for better visualization and diagnosis. E.g. photo-realistic rendering in Philips TrueVue, Radiant Flow used in fetalHQ heart and vascular analysis software for fetal ultrasound, offered on the GE Voluson E10, high-resolution imaging that automatically adapts to patients' size and personal physical characteristics or patient's bio-acoustic variations in tissue density, stiffness and ultrasound beam absorption allowing better penetration without image quality degradation in Siemens Acuson Sequoia system.
Workflow Automation
Workflow improvements in current generation ultrasound machines include, automation/semi-automation of measurement, auto-image optimization, reducing repetitive user tasks, support functions like Scan Assistant, Scan Coach etc. – aimed at faster processing time and Improving efficiency and productivity as well as enabling lesser acquainted physicians to do the scans, rather than Radiologists.
E.g. GE Versana Premier is designed with medical practitioners in mind. So that clinicians other than Radiologists can also confidently diagnose without any concern, the Versana Premier ultrasound machine has a number of semi-automated features that help to produce high resolution images such as Whizz one-touch dynamic image optimization, Auto IMT measurement, and SonoBiometry for fetal measurements. There are also a number of support functions like Scan Assistant, Scan Coach, My Trainer etc. Features like Whizz in GE Versana and Konica Minolta Sonimage HS1 in offers one-touch image optimization wherein multiple imaging parameters, such as frequency, focus and compounding change automatically when adjusting the depth.
Software features like Automated Lesion Segmentation introduced on the GE Healthcare Logiq E10 system increases productivity through automation. Repetitive examination steps waste a lot of radiologist's time. With this software, the user need not measure lesions manually as it automatically segments an identified breast, thyroid or liver lesion and provides a trace of the lesion and corresponding area. This also helps ensure consistency among different users, or even the same user, for documentation and follow-ups.
Hand-held Ultrasound
The objective of Point-of-care ultrasounds is quick use by physicians at the patient bed-side. Vscan Extend handheld, pocket-sized ultrasound, GE Healthcare, SonoSite iViz, Philips Lumify portable Ultrasound system are some of the latest point-of-care ultrasound systems in the market. As more and more image manipulation is getting automated or AI enabled, there is less use for plathora of buttons and knobs. The ultrasound consoles are getting more compact by the day and software applications are getting more complex.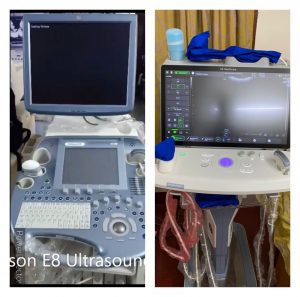 Take a look at the Voluson E8 console and the Voluson Swift Console. Voluson E8 System was launched in 2006 and Voluson Swift was launched recently in 2020. See how many knobs and buttons are there in E8 console and how light the Swift console looks.
The only irreplaceable element in ultrasound machines arguably is the transducer. The overall attempt going forward is to have handheld tranducer with other mandatory hardware as a hand-held device and enshrine all software in a mobile device/app. Butterfly IQ has introduced an ultrasound transducer and app to convert iPhones into a reasonably good quality diagnostic ultrasound system.
Of all the recent advancements in ultrasound machines, hand-held devices are most striking and exciting even if limited in use. They are almost status symbols for individual clinicians.
Newer Transducer types
The well-known piezo electric crystal transducers are now giving way to single crystal, wireless and even dual probe. A single crystal transducer is characterized by a higher energy conversion efficiency and higher sensitivity than conventional piezo-ceramic materials; consequently, single crystal transducers can produce greater uniformity, and stronger penetration. Single-crystal ultrasound transducers are being used for improved resolution and penetration, and highly sensitive and accurate echo detection, among other features. E.g. in Mindray M9  & ALPINION.
Shearwave Elastography
Shearwave Elastography in study of tissue pathology is now increasingly available in Premium Ultrasound machines. Elastography, which is a relatively new imaging modality that maps the elastic properties of soft tissue. This modality emerged in the last two decades. Elastography is useful in medical diagnoses as it can discern healthy from unhealthy tissue for specific organs/growths. For example, cancerous tumors will often be harder than the surrounding tissue, and diseased livers are stiffer than healthy ones.
New uses of Ultrasound imaging
Ultrasound is being increasingly used in other unconventional areas such as Intravascular Ultrasound (IVUS), Laproscopic Ultrasound, Contrast imaging and lately lung ultrasound has been extensively used during Covid19 treatment.
---
PrimedeQ is an e-Marketplace for medical equipment. We offer all types of used / refurbished medical equipment on Sale, including ultrasound machines, maternity equipment such as fetal heart monitors,  Lab equipment, X-Ray, TMT, ECG, anesthesia machine, ultrasound machines, endoscope and ultrasound probe repair services etc. Contact us on +917019759765 or +918971223957 for any medical equipment or related spares & services.