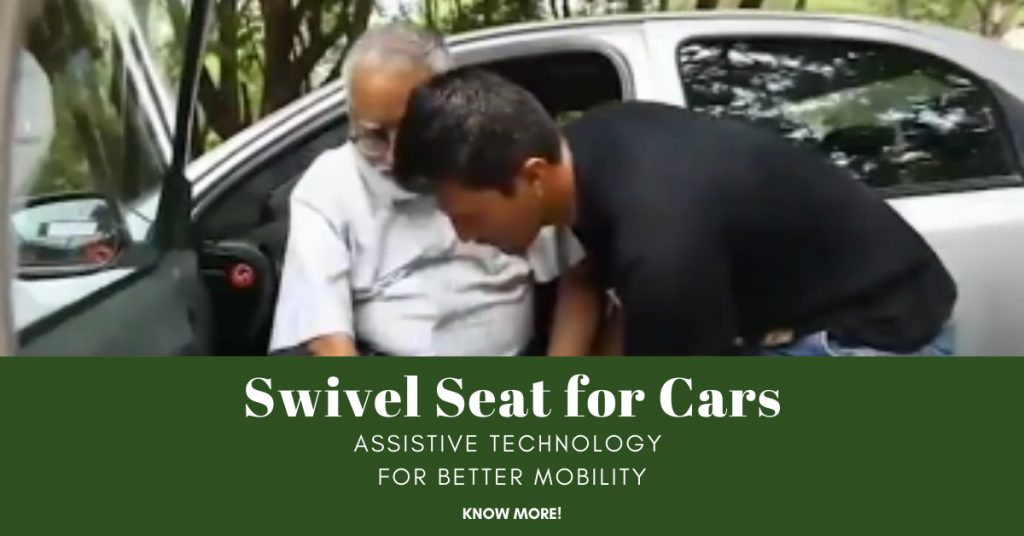 Have you ever seen senior citizens struggle to get in and out of cars? Have you had a tough time helping someone with wheelchair to car transfer? May be you have seen swivel seat in cars abroad and wondered where you may be able to get them in India. If yes, read on… to know more about how TurnPlus is making life easier for seniors and people with disabilities.
For assistance in India with swivel car seats, contact us on +918971223957 / +917019759765 or [email protected]
For more information about Swivel Car seats.. Read on
Need for assistive technology for cars
In India, there are 2.68 Cr people with disability. 20 percent of the disabled persons are having disability in movement and 8 percent has multiple disabilities. We will have about 98 million senior citizens. The major problem this segment faces today is, ease of commute. Most of the limited mobility persons have problem in getting in and out of cars. These people what to live an independent life, they don't want to burden the people around them. Some of the challenges they face is non availability of cost effective and standardized solutions. There are imported solutions which are expensive and not cost effective. The imported mechanisms need specialized centers and dealers to perform the installation. These centers are very limited and not easily accessible. The other mechanisms locally made in India are not tested and standardized.
Solutions available for cars
We should not be surprised to know that there is no Indian car manufacturer who manufacture car platform which are friendly for wheelchair users. Most users get the cars modified to suit their needs. There are imported solutions available by companies like AutoAdapt, Braunability, Ricon, Elap, Belek. These solutions are expensive and only a handful of dealers in India. Servicing of these solutions is also another problem.
Some interesting solutions for cars are,
A swivel seat in cars or turning seat, where the seat rotates 90 degrees and come out. We can sit on it like a chair and then slide inside conveniently. We have both manual and automatic variants. There is also a variant which attaches the seat to a wheel chair base.

TurnPlus Swivel seat

A transfer board for the passenger seat and driver seat, which is an extension to the existing seat. It serves the same purpose as that of the turning seat above. In this case the person using the solution should have more arm and back strength to slide the body inside
Portable Ramps can be part of all the cars which can make all space easily accessible. These foldable and portable ramps are compact and can go in the trunk of most cars. Carrying them along can make most places quickly accessible
Wheelchair to car transfer – Car hoists can be used to carry persons from wheelchair into the car. These can be used to also carry the wheelchairs into the car.
Driving aids are another important solution which help with modifying the driving systems of breaks, clutches and accelerator.
How to evaluate the solutions like Swivel Seat in Cars
The assistive solutions for cars should be evaluated based on the following criteria:
The solutions should be well tested. As these solutions are installed in the cars, they should be safe and reliable. They should follow some ARAI guidelines for testing. Like the seat belt anchorage tests, front and rear crash, endurance tests etc.
The solution should be easy to install and portable. The solution should be capable to moving from one car variant to the other.
They should be easily serviceable. Even a local mechanic should be able to repair or fix the issues
The solution should be cost effective so that many people from varied sectors of the society can take advantage.
The solution should be scalable. We have so many car variants, the solution should fit in most of these car variants.
It should be generic enough to address as many health conditions.
About TurnPlus – Swivel Seat for cars
TurnPlus is a flagship product of TRUE Assistive Technology. It was launched in the second half of 2017. TurnPlus is an award winning, easy to install, swivel seat mechanism in cars, which addresses a very important aspect of easy commute for the differently abled and senior citizens, thus creating an inclusive ecosystem. It is designed to improve the quality of travel and life by making car travel easy for people with multiple medical conditions.
There are more than 100 TurnPlus users across India, who find the solution very useful. The kind of feedback given by the community is overwhelming. There is a huge need in India for Assistive tech products.
Know more about TurnPlus here, https://trueassistech.com/products/TURNPLUS.
See this video to understand how the mechanism works, https://bit.ly/3vLr2zb
---
PrimedeQ is an eMarketplace for medical equipment. We offer all types of New & Used Medical Equipment on Sale. We also assist in medical equipment repair & maintenance services at www.Primedeq.com. Contact us at +918971223957 or +917019759765 for all your medical equipment related needs.