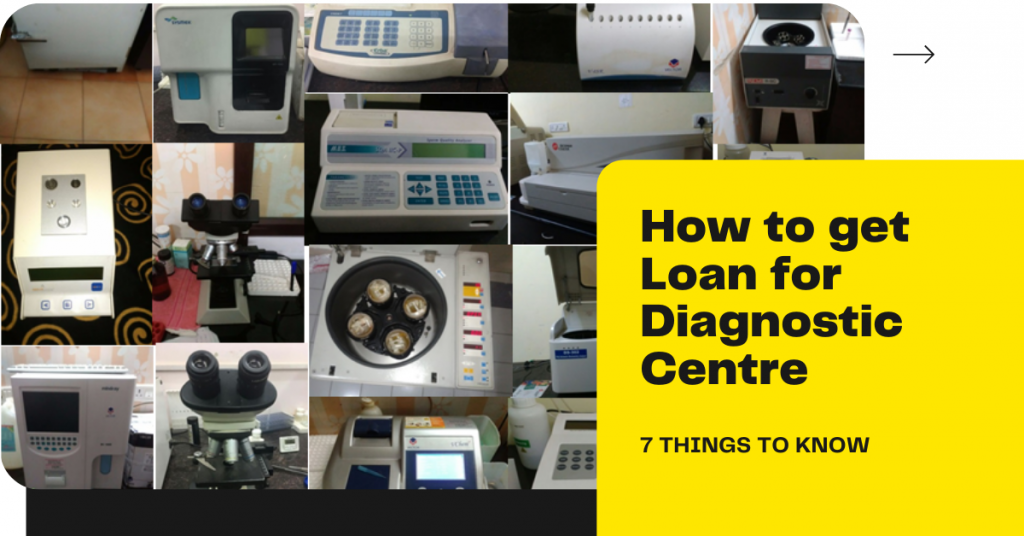 Are you planning to set up a medical diagnostic centre? Have you completed a market study to assess business potential for a diagnostic Pathology lab in the location under consideration? Wondering how much it will cost to set-up a diagnostic centre? Wondering how to get a loan for Diagnostic Centre and Pathology Lab?
If yes, you have come to the right place. There are many banks and financial institutions interested in giving loan for diagnostic centre. Before one approaches them for the loan – what are the important things to be very clear about so as to get a loan sanctioned successfully? We will be looking for those 7 important aspects and more.
Business Potential
Licensing & Certifications
Staffing with the required qualifications
Space requirement
Cost of Reagents & Consumables
Credit Score
You need to have a good credit record for getting a loan. CIBIL score will be checked. If it is an expansion project the past performance is of great importance.
Read on for information on diagnostic centre equipment list and a good sense of how much it would cost. There are other things like space requirement, staffing, legal / Government approvals, operations and quality management processes you need to plan for.
Business Potential
The most important consideration in financing a business venture is its potential to generate revenue. A proper market study needs to be done for the location vs the total population, paying capacity, existing clinics, hospitals who will refer cases and most importantly a competition mapping. Based on all the above a fair assessment of the number and types of tests required can be made. Once we have a good assessment of business volume, financial projections can be easily made.
Equipment Planning for a Medical Diagnostic Centre
The decision on what equipment needs to be purchased essentially comes from what are the types of tests that will be done and volume of those tests.
Scope of Work: When starting a lab business, the basic thing to decide is scope of the lab and the services it will provide. For a full-fledged lab, this may generally include Hematology, Biochemistry, Microbiology, Immunology, Serology, Histopathology, Cytopathology and more. However a small & medium Lab may have limited scope based on market potential. Review the hospital and physician profile in the locality, what diseases are they treating and what sort of lab tests are they likely to prescribe? What is the expected patient volume for each type of investigation on a daily/monthly/Yearly basis? Answers to these questions will help decide the Lab Infrastructure including equipment.
Equipment & Technical requirements: Based on the scope of the lab, you need a 3 or 5 part hematology analyser, a fully or semi-automated biochemistry analyser, controls for internal and external quality control, reagents for analysis and staining, consumables for blood collection, fridges, centrifuges, incubators, pipettes (regularly calibrated), autoclave for pre-treatment before waste disposal, stationery. Sections like microbiology and histopathology will need specialised equipment. If not in scope, you may choose to outsource such investigations. In case of outsourcing, proper tie-up with a larger lab facility needs to be put in place.
Read our blog https://www.primedeq.com/blog/medical-diagnostic-centre-and-lab-equipment-list/ for more details on equipment.
Licensing & Certifications
Statutory Compliances: Once the Planning is over, it is time to register a legal business entity. Decide whether it will be a proprietorship, partnership, LLC or Private Limited company based on future plans and number of founders involved. All licenses need to be place in order to a a loan for diagnostic centre. Some of the basic statutory requirements could be:
Registration under Shops and Establishments Act,
Clinical Establishment Act if implemented in the state,
Director of Health Services,
Local Biomedical Waste disposal Body,
Approval for waste generation from state pollution control board,
Fire NOC,
Municipal NOC.
AERB Registration and licensing (For Radiology equipment like X-Ray and CT)
PC-PNDT Certificate for Ultrasound machine.
For NABL accreditation or just improve quality in the Lab the following document can be helpful. (http://nabl-india.org/nabl/file_download.php?filename=201210170522-NABL-112-doc.pdf ).
Check for more legal / statutory requirements based on the state you are in.
Staffing with the required qualifications
At the basic minimum for Pathology Lab set-up, one needs a competent qualified signatory according to the NABL guidelines or as stated in the Clinical establishment act like a MD Pathologist/MD Microbiologist, full time or part time based on the lab workload to ensure quality reporting. A basic MBBS/ MD is an essential qualification required for license to be granted by Local health authorities (District Health Officer). Additionally, one needs to hire qualified technicians based on the number of hours the lab is operational for staffing in multiple shifts.
The Diagnostic Centre needs a qualified radiologist if it has X-Ray and CT Scan machine. For obtaining AERB operating license the Radiologist needs to be an RSO. Also the PC-PNDT certificate will be given only in the name of the Certified Ultrasonologist or radiologist.
Staff needs to be given basic induction training and continuous education to minimize human error and improve lab safety. All equipment need maintenance and calibration on regular basis. Standard operating procedures (SOPs) need to be put in place and staff needs to be trained on them. Staff should be vaccinated against Hepatitis B and Tetanus. In addition plan needs to be made for billing/ customer care, administrative, marketing as well as home collection staff, depending on the size of operations.
Space Requirement and Lab infrastructure
Space planning needs to be done based on the number of equipment, their size, work area required, space for the waiting area, blood collection, examination, processing, storage, waste disposal, washrooms and staff area etc.
Equipment includes lab equipment, miscellaneous equipment like computers, barcode scanners, UPS, lab furniture, vehicles, collection devices and others.
Budgeting needs to be done for all the above in terms of cost. Key decision could involve whether lab will be in rented or purchased premises. Some provision should be made assuming growth in business at least for the medium term of 3-5 years.
Cost of Reagents & consumables
You need to place order with different vendors after comparing the prices and based on the reagents/ consumables/controls and the company you decide to purchase from. Reagent costs are extremely crucial and could make or break the business.
Credit Score an Important Criteria – Loan for Diagnostic Centre
As mentioned before the company's credit record is crucial for getting a loan for diagnostic centre. If it is a new venture, the Directors/ Promoter's PAN (Other KYC documents), CIBIL rating etc. are important and one needs to be ready with.
For assistance on getting a market study, business plan or project report for setting up a Diagnostic Centre or Pathology Lab contact us on 8971223957 or 7019759765
PrimedeQ is an e-Marketplace for medical equipment. We offer all types of used / refurbished medical equipment on Sale, including Lab equipment, X-Ray, TMT, ECG, anesthesia machine, ultrasound machines, endoscope and ultrasound probe repair services etc. Contact us on +917019759765 or +918971223957 for any medical equipment or related spares & services.