Looking to buy and ECG machine? The first question that gets popped is 3-channel or 12-channel or anything in between. Number of channels is not the only feature on which to compare ECG machine. Read on and find out what features to look for when buying an ECG machine.
Brief Introduction to Electrocardiography or ECG
Before learning how to compare ECG machine, lets understand how an ECG machine works. Electrocardiography is the process of producing a recording of the electrical activity of the heart, in the form of a graph, using electrodes placed on certain specific spots on the body. This graph is called electrocardiogram.
For the purpose of producing an electrocardiogram, the standard practice now is to place 10 electrodes in the following 10 different positions on the body: 4 Limbs ( Left Arm, Right Arm, Left Leg and Right Leg) + 6 on the chest on specific locations near the heart. Potential (Voltage difference) is measured between two of the electrodes or a common virtual electrode, called as the Wilson's central terminal. Wilson's central terminal is the average potential measurements between three of the limb electrodes – Right arm, Left arm and Left Leg. These voltage difference measurements are called "Leads".
In all 12 'leads' are required to complete the ECG graph. These 12 leads include, 3 limb leads, 3 augmented limb leads and 6 chest leads (also called precordial leads). While the three limb leads are measurements of potential / voltage difference between the limb electrodes, the augmented limb leads and chest leads (also called precordial leads) are potential difference between the limb and chest electrodes vs the virtual electrode (Wilson's central terminal).
Often people use the term 'lead' for electrodes also and hence cause confusion as to whether there are 10 leads or 12 leads in an ECG machine.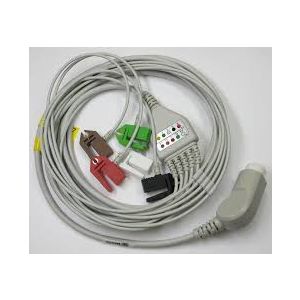 When a patient cardiac activity needs to be monitored for a longer period of time; ECG variants with fewer number of electrodes are used to help aid mobility – such as with 3-electrodes or 5-electrodes (These may be confusingly called 3-lead / 5-lead ECGs – but the numbers 3 & 5 here refer not to the number of leads obtainable but the number of electrodes used). As against the 12-leads ECGs, the 3 & 5-electrode ECGs capture less information. The 3-elecrode ECGs -capture only the limb-leads but no anterior view, hence useful for rhythm monitoring. In a 5-electrode ECG all the 6 limb leads and one chest view is also captured.  If someone says e.g. 5-channel ECG or 5-leads ECG, they essentially mean 5-electrodes ECG. So, what is a channel?
Channel – The other term commonly used in reference to ECG machine is number of 'channels'. ECG machines may come as single channel, 3-channel, 6-channel or 12-channel configurations. Each lead measurement done a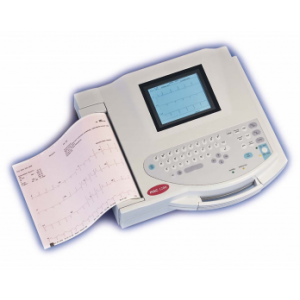 s detailed above is then passed through an 'amplifier' channel and recorded. In a single-channel system, each lead is recorded and displayed one at a time.
In a multi-channel system, the ECG has a microprocessor which manages this processing of signals based on the number of channels. The signals are amplified, filtered and sent to a multiplexer. The multiplexer receives all the inputs, reconstructs signals, de-multiplexes and sends the output to display screen or chart recorder. If it is a 3-channel ECG, the microprocessor groups the signals received from the 12-leads, in 4 groups of 3 and processes them. Similarly, in 6-channel it is in two groups and 12-channel device the same 12-leads are processes simultaneously. Hence, higher the number of channels, faster the ECG recording would be. Clearly, 'channels' is different from 'electrodes' or 'leads'.
Features check and other questions to compare ECG machine
General Features
Objective – What is the key objective? Monitoring or recording? Depending on the objective one may choose the type of ECG machine, number of leads/ electrodes- 3/5 etc.
No. of channels – : Is the ECG multi-channel? Does it acquire all the standard 12 leads simultaneously? Does it have at least 3 channels of simultaneous ECG data? Ideally the device should be able to print at least 3 leads of the ECG waveform continuously with manual switching between leads.
Screen size – is important for viewing convenience vs compactness of the device. What is the screen size? 2.7"/3.5"/4″/10.4″/12.1″/15.1″/any other?
Internal Storage – The device should be able to store ECG waveforms for retrieval, printing, and transmission at a later time. Does the ECG machine allow storage of at least 20 ECGs? Does it include an expandable storage capability?
Report printing – Does the machine include a printer? Are options for both graph paper and plain sheet are available? Does it provide sensitivity settings of at least 2.5, 5, 10, and 20mm/mV and recorders with a typical chart speed of 5, 10, 25, and 50 mm/sec?
Connectivity – Does the ECG machine have a RS232 port and/or USB port or other appropriate digital interface to allow its communications with other devices such computers, or Hospital Information Management System/ Electronic Medical Records, LAN and Wireless connectivity options.
Patient details – does the ECG machine enable input of patient data such as patient's name, or ID number, age, sex, weight, and height and other demographic details?
Input – Is touchscreen and / or Keyboard options available?
Tracking – Does it have bar-code or magnetic card reader?
Battery Capacity and Charging time – The machine should be able to charge to maximum in less than 15 seconds over the full range of battery-charge indicator levels. The unit should automatically disarm within two minutes if not intentionally discharged. The ECG should have the option of running on battery power, including interpretation and reporting without interruption during disconnection of line power.
Technical Features to compare ECG machine
Technical features to compare ECG machine – Check for such as – Last ECG recall, interactive query, leads off advisory, Lead colour, lead check, Heart rate display, print preview, application help, simultaneous lead acquisition, trend and event marking are available?
Alarms – Does the ECG machine provide for audio- visual alarms for heart rate, basic and advanced arrhythmia? Is Lead-off advisory available?
Battery capacity & status markers – should be available on the electrocardiograph, as well as indicators for loose electrode contact, systems status, artifacts etc.
Interpretation Software – Does the ECG machine come with a complete interpretation software package?
An interpretative ECG should include a recorder, and the recorded strip should include periodic annotations. Check – Does the recorder include a lead marker, timing marker and event marker?
Before purchase of ECG, it is advisable to ask the seller for Software available and software version and ensure it is mentioned in the PO and invoice.
Click here for ECG Features Checklist table
Buy new ECG machines, Sell used ECG machines and find all ECG machine spares & accessories at best prices on PrimedeQ.