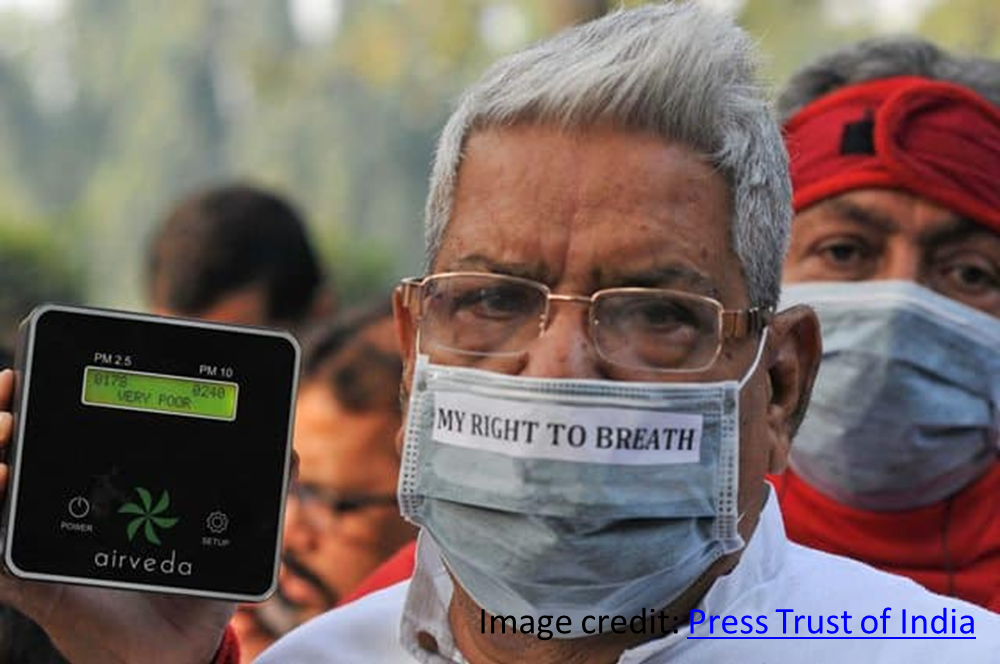 It has been a long stay in the hospital for your parent, with all the attendant anxiety for moving in and out of ICU etc. Now you are relieved that they are discharging today from the hospital and you can take care of him at home. But then, doctor has recommended that he will need to continue to use oxygen concentrator at home. How long? Not sure? You call up a friend who had earlier purchased an Oxygen concentrator, for advice. He says, "Oh don't buy, just rent one. It would be so much cheaper. You know what happened with us? Mother had hardly used it for three months and then passed away.  I had to sell the machine for 40% of the cost." he laments. Now you are confused and wondering whether to buy or rent oxygen concentrator? It doesn't come cheap. Neither is the rent. How do you decide?
What are the main considerations for renting vs owning an oxygen concentrator?
Purchase cost – A 5L capacity oxygen concentrator (OC) is most commonly used OC. Let us take the Philips Respironics Everflo OC for e.g costs around Rs 47000+ tax ~ Rs 52640/- (Check online). Portable ones are available in the range of Rs 160000 – 180000 or more.
Rental cost – The same Oxygen Concentrator is available on rent for anywhere between Rs 3500- 5000 per month. Let us assume Rs 4000/ month on an average. Portable Oxygen Concentrators are available (much less but available( on rent for about Rs 6000/ week. You may consider renting only if you expect to go out on rare occasions.
Accessories – One set of items such as nasal cannula, humidifier bottle etc, are available on purchasing a new OC. However if you rent an OC, one set needs to be purchased. One-time cost of a set of accessories can be assumed as Rs 5000.
Maintenance cost – Maintenance can be a head-ache, you may want to do without. In case you rent, maintenance responsibility is that of the rental company. If the machine is not working they simply give you a replacement. If you own the equipment, you have to call the seller and wait for them to fix it. Sometimes this may mean inability to use the equipment for a day till it is fixed. Maintenance cost is included in the rent charges. At the same time, most OCs come with 2-3 years warranty hence, the maintenance for the warranty period is Nil.
New vs Used – When you rent equipment, it is likely to be used. From health point of view, it does not matter, as long as you have changed the tube and mask and other accessories. However, if the OC is highly used it may have chances of frequent failure. You may like to check how many hours the oxygen concentrator has been used already before you accept the machine for rent. Same is true for buying used equipment.
Average life-span of an Oxygen Concentrator – Typically 5 years (depends on maintenance and usage) or 10000 hours.
Cumulative Cost Vs Years of Use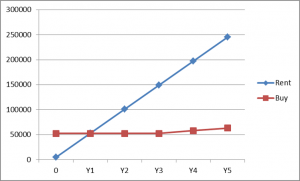 | | | | | | | |
| --- | --- | --- | --- | --- | --- | --- |
| Year/ Cost in ₹ | 0 | Y1 | Y2 | Y3 | Y4 | Y5 |
| Rent | 5000 | 53000 | 101000 | 149000 | 197000 | 245000 |
| Buy | 52640 | 52640 | 52640 | 52640 | 57904 | 63168 |
The above chart shows the cost of rent vs purchase over a typical life (5-years) of Oxygen concentrator. The cost of Rent, roughly over a period of 1-year equals that of purchase, however, the cumulative cost of rent beyond the first year is much higher even after considering maintenance costs after the warranty period for a new purchase.
Hence, we can conclude that if we are going to use OC for more than a year it makes sense for us to buy rather than rent.
Now, how do you know if you are going to need an oxygen concentrator for 1-year or more?
An article published by International Journal of Clinical and Experimental Medicine looked at a study conducted on 200 patients with long-term respiratory care at home, using oxygen concentrator. It found that patient duration of device usage was 32.4 ± 30.7 months and average daily oxygen usage duration was 16.3 ± 3.1 hours.
Patient usage duration of Oxygen Concentrator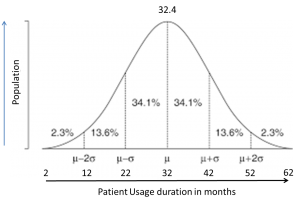 Based on the above study we can say that even though average life of an oxygen concentrator is about 5 years, most often it is used for only half that period, i.e. about 32 months. Most patients would use OC for 2 to 3.5 years. Only about 2.3% of the patients are likely to use oxygen concentrators for less than a year.
Do you belong to the set of 2.3% or less patients who are likely to use the OC for a period of 1-year or less? To know this – discuss the patient condition well with his / her doctor.
Resale value
What about resale value? You may think I will sell the equipment if it is not much used. True.
If you buy equipment, please be aware that a used Oxygen Concentrator is likely to fetch a resale price in the range of 35-40% of the original price, no matter how less it is used (even just 1 month old– is considered 'used'). Retail demand for used OC is very poor in India today. Interested buyers are few and far in between and institutional buyers are looking for a good deal.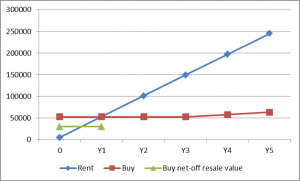 Summary
| | | | |
| --- | --- | --- | --- |
| S.no. | Consideration | Buy | Rent |
| 1 | Upfront cost | Rs 52640 | Rs 5000 |
| 2 | Ongoing cost | – | Rs 4000 |
| 3 | Maintenance cost | Nil for 3 years, thereafter 10% (apprx) | Nil |
| 4 | Condition | New | Used |
| 5 | Resale Value | 35-40% | NA |
Conclusions
Considering that the resale value of the OC would be about Rs 20-25000 (market value for used OC today), the net cost if one buys, would be Rs 30000 (approx.). If resale value is also taken into consideration, it is more remunerative to purchase rather than rent beyond 6-7 months.
Discuss the patient condition well with your doctor and find out his/her recommendations before deciding to buy or rent.
Buy Used Oxygen Concentrator
Given the above facts, it makes practical financial sense to buy used oxygen concentrator rather than a new one. A typical oxygen concentrator has a life of about 5 years, but an average person uses it for about 30 months only, that is half the life-span of the equipment. If you manage to get a used oxygen concentrator at 30-50% discount why not go for it. All you have to do is buy fresh accessories such as the humidifier bottle and nasal cannula which doesn't cost much, just a few thousand Rupees.
Check out www.primedeq.com to buy any medical equipment, get medical equipment repaired or serviced, buy spares and accessories or call us on 8971223957 / 7019759765
Click here to buy used oxygen Concentrator.