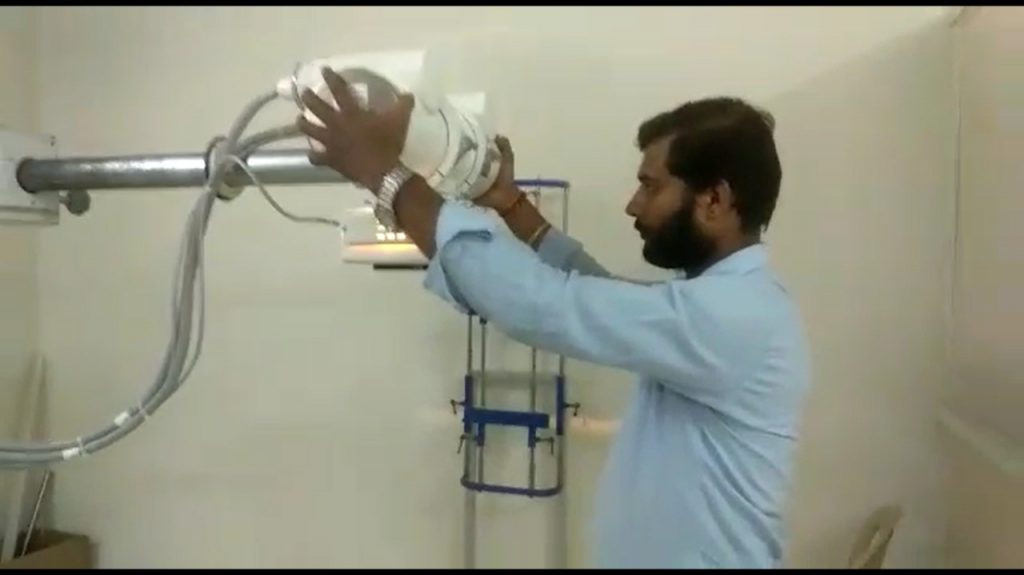 What is Quality Assurance for an X-Ray machine or any Diagnostic Radiology equipment?
As per AERB, Quality Assurance (QA) of medical diagnostic x-ray equipment means systematic actions necessary to provide adequate confidence to the end-user(s) that a medical diagnostic x-ray equipment will perform satisfactorily in compliance with safety standards specified by the Competent Authority (In India, the competent authority is Atomic Energy Regulatory Board – AERB).
Why are QA tests required?
The main Objective of Quality Assurance for an X-Ray machine is to ensure that, with minimum possible radiation dose to the patient(s), optimum image quality of radiological procedures is achieved. Good quality of image is essential for an accurate diagnosis, but not at the cost of overdosing the patient with x-radiation.
If the equipment has not undergone QA, it may be performing sub-optimally. To ensure that good quality image is obtained, the technician may end-up over-exposing the patient either due to wrong settings or repeat tests.
Why is AERB concerned about radiation dose/ exposure to patients?
We are all exposed to natural radiation of about 3mSv per year – but this is not harmful. Human body can cope with some minimal levels of radiation exposure without any harm. Hence X-ray equipment are used because they serve a more useful purpose of diagnosing treatable diseases with minimal radiation. X-Radiation at controlled levels is useful for diagnosis of diseases. However, careless exposure to and excessive cumulative radiation over short periods of time can be very harmful to health. This is why AERB regulates use of radiology equipment.
So, how much radiation exposure is harmful?
Large doses of radiation or acute radiation exposure destroys the central nervous system, red and white blood cells, which compromises the immune system, leaving the victim unable to fight off infections. Exposure to 350 mSv was the criterion for relocating people after the Chernobyl accident, according to the World Nuclear Association.
For example, a single one sievert (1,000 mSv) dose causes radiation sickness such as nausea, vomiting, hemorrhaging, but not death. A single dose of 5 sieverts would kill about half of those exposed to it within a month.
Exposure to 100 mSv a year is the lowest level at which any increase in cancer risk is clearly evident. A cumulative 1,000 mSv (1 sievert) would probably cause a fatal cancer many years later in five out of every 100 persons exposed to it.
Source: https://www.reuters.com/article/us-japan-quake-radiation/factbox-how-much-radiation-is-dangerous-idUSTRE72E14R20110315
How much radiation dose do we receive during radiology investigations?
Consider the following numbers:-  Approximate effective radiation dose per
PET-CT scan is 25 mSv
CT Angio is 12 mSv
CT Chest is 7-8 mSv
CT – Abdomen & Pelvis is 10 mSv
X-Ray Chest is 0.1 mSV
Dental X-Ray is 0.005 mSv
Bone densitometry is 0.001 mSv
Mammography is 0.4 mSv
So based on the above data, how many radiology investigations cumulatively can lead up to an exposure of 100mSv in a short period of time? 4 PET-CT scans/ 8 CT Angios/  10-12 CTs/ 1000 X-Rays/ 20000 Dental X-Rays/ 250 mammograms or 100000 Dexas add upto 100mSv cumulative radiation which can cause cancer.
No one normally goes through so many scans in short period of a few months. But, one must know that for some error or any other reason, if a repeat X-Ray needs to be done… that doubles the exposure. In general, if we are not careful it is possible for various reasons that cumulative exposures could lead to unacceptable radiation dose.
As per AERB, the current occupational limit of exposure per year for a worker (Adult) using radiation is "as low as reasonably achievable; however, not to exceed 5,0 mSv" above the 3 mSv of natural sources of radiation and any medical radiation.
Which radiology medical equipment require Quality Assurance testing?
All the following equipment, whether fixed or mobile/ portable, require QA testing:
X Ray Machine (Fixed & Mobile)
X Ray Machine (Fluoroscopy)
Portable X Ray Machines
Digital Radiography (DR)
C Arm
Dental X Ray Machines
Dental Orthopantogram (OPG)
Cone Beam Computed Tomography (CBCT)
Mammography
Bone Mineral Density (BMD)
CT
Cath Lab
Interventional Radiology
All the above radiology equipment are covered under the AERB QA program.
What is the AERB QA Program in its essence?
Quality Assurance for an X-Ray machine as per the AERB program is mainly carried-out in two parts
First – the performance evaluation of diagnostic x-ray equipment at the manufacturing stage (called type approval). Type approval is the responsibility of the manufacturer.
Second – acceptance testing after the installation of X-ray equipment at user's institution(s) to ensure its conformity with the specifications (Operating license). This part is responsibility of the user. The QA tests should be carried out thereafter at regular intervals (periodicity-once in two years) and also after repairs of the equipment or when equipment malfunctions is suspected. This is to ensure that the equipment continues to function as per prescribed standards.
A good diagnostic x-ray procedure is one that provides the highest quality diagnostic information at the lowest radiation risk to the patient, but quality must always take precedence over radiation dose. Increased awareness among health professionals is intended to enhance implementation of safety standards in healthcare.
Among various other things AERB has taken following steps for population dose reduction from diagnostic uses of radiation:
Supply of type approved X-ray units in India.
Conducting Quality Assurance for an X-Ray at regular intervals.
Training of staff involved in quality assurance testing of X-ray units for diagnostic purpose
Optimization of X-ray examinations particularly in pediatric studies.
What exactly is done as Quality Assurance or QA tests? Read our Blog on Quality Assurance Tests for Diagnostic X-ray Equipment for more details.
PrimedeQ offers QA services for all types if radiation equipment. We also assist hospitals and diagnostic centres with ELORA registeration, AERB licensing, TLD badges etc. Contact us on +917019759765 or +918971223957 or write to us at [email protected] for any assistance in this area.