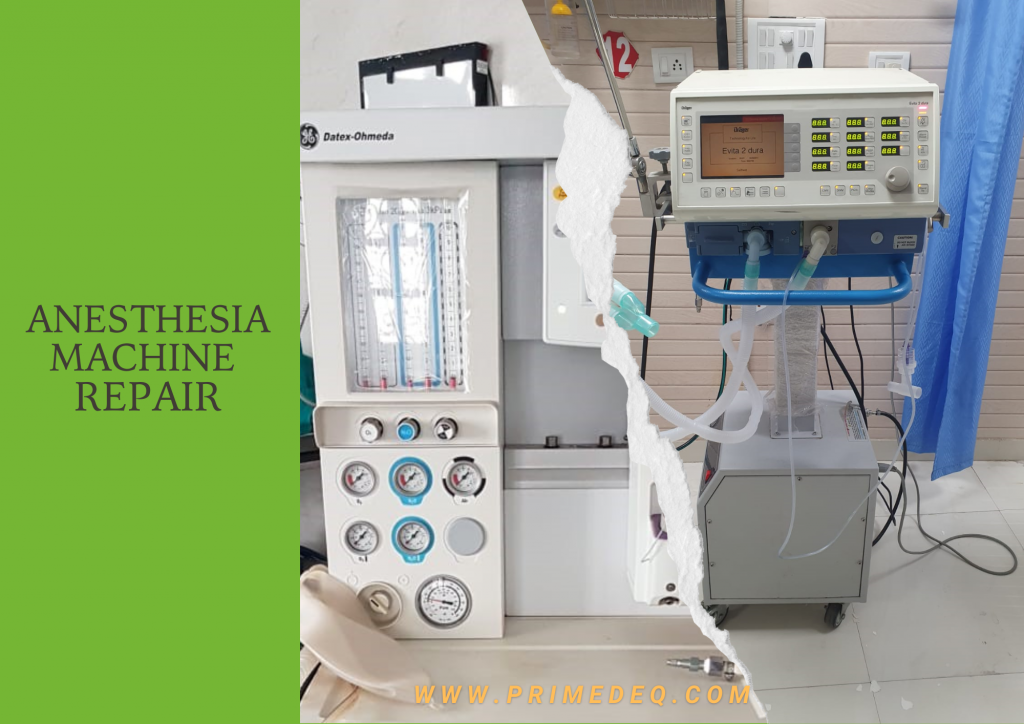 Anesthesia machine
Anesthesia machine is used in the operating theatres to administer anesthesia to patients before surgery. The machine essentially includes a controlled gas delivery system in which anesthetic gases are mixed with oxygen for patient to breathe and patient monitoring systems. Most Anesthesia machine repair issues relate to problems with gas supply, flow or leakage issues. Most common spares that need replacement are O2 sensor or flowmeter.
Main Components and working of Anesthesia machines
The main components of an anesthesia machine include gas delivery, electronic flowmeters, vapourizers, breathing circuit, scavenging system. Read the following blog for full details.
Components of Anesthesia machine and advanced features in Anesthesia workstation
Anesthesia machine Repair and troubleshooting
Here, we will talk about common problems faced while using an anesthesia machine and how to troubleshoot them:
Electrical problems – Either the machine is not powering on or users are experiencing electric shock.
No gas output – Either O2 or N2O supply is low or there is low pressure. Check the pressure gauge.
O2 failure alarm is not working – either the device is faulty or alarm battery needs replacement.
There is leakage in the system – check all the tubings and connection points for leakage and fix.
Flowmeter fault – Needs to be checked by a biomedical technician. for needle vale or float ball problem.
Here is a handy one-pager for troubleshooting.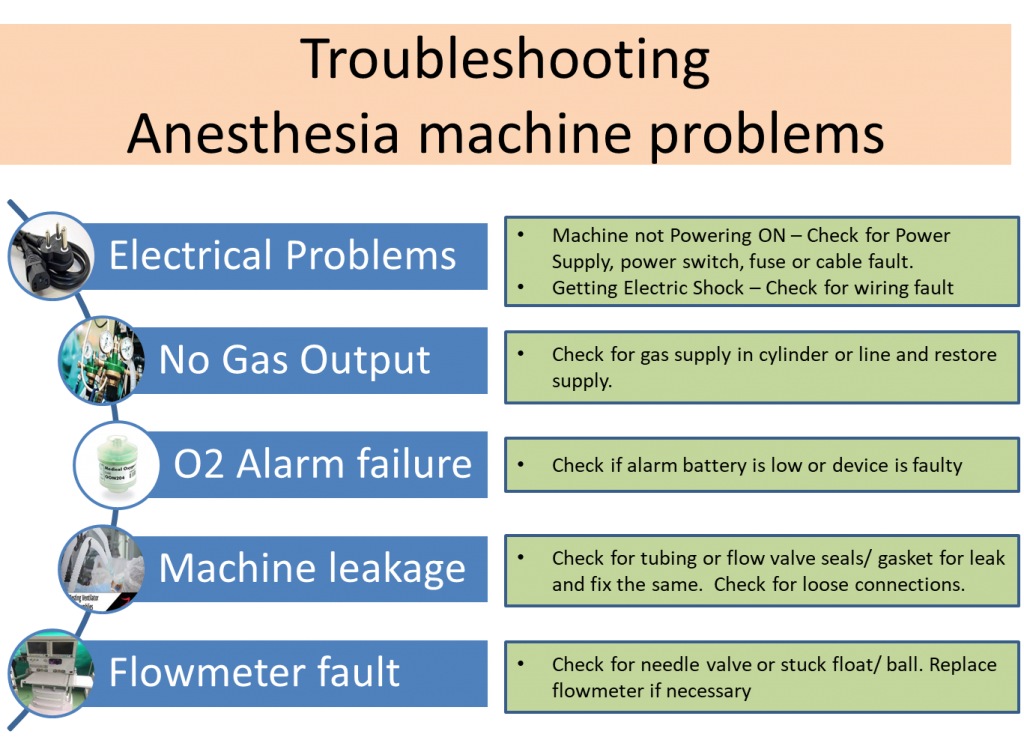 Reliable Anesthesia machine Repair Services and Spares in India
Should you face any of the above problems with your Anesthesia machine, contact us at 7019759765 or 8971223957! PrimedeQ can assist you with board repair/ replacements or any other type of repair and general servicing of anesthesia machine.
---
PrimedeQ is an e-Marketplace for buying, selling, renting, servicing and spares of medical equipment. We offer all types of used / refurbished medical equipment , including Electro Surgical Unit, Ophthalmology equipment, endoscopes, OT equipment, Laparoscopic Equipment,  Lab equipment, X-Ray, TMT, ECG, anesthesia machine, ultrasound machines etc.  We offer  repair services for all types of medical equipment including ESUs, Lab equipment, microdebrider,  laparoscope , x-ray tube, rigid and flexible endoscopes as well as EUS (Endoscopic Ultrasound Units) and ultrasound probe etc.