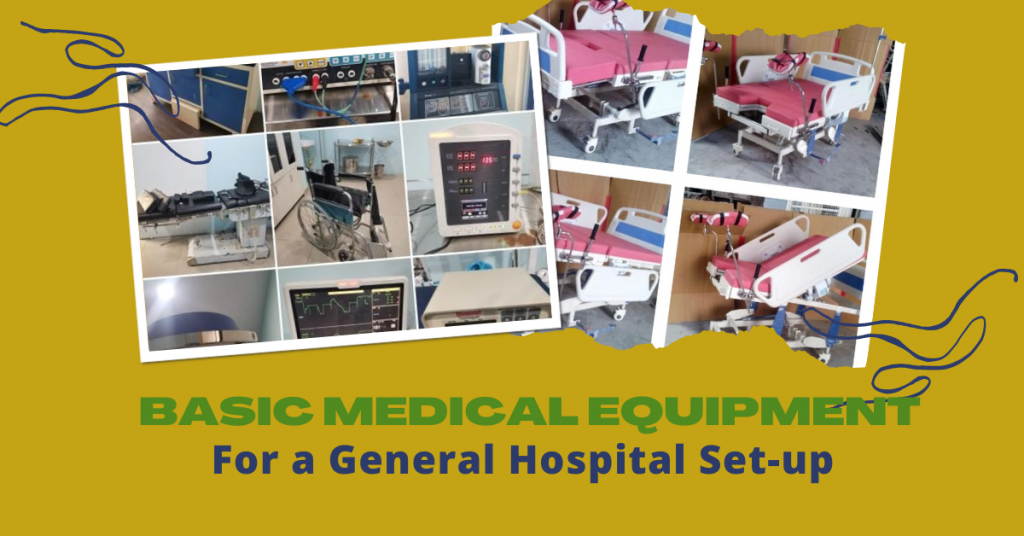 Basic common medical equipment list needed in a hospital depends on the treatments planned in the hospital. A typical general hospital or secondary care hospital caters to the basic medical needs of the community. Basic specialties a general hospital deals with are:
Maternity
Pediatrics
General medicine
General Surgery
Orthopedics
In keeping with the above case-mix the departments in general hospitals are
Out-patient for consultation
Diagnostic Laboratory & Imaging
Labour room
OT set-up
In-patient wards
ICU
Other supporting departments like Pharmacy, CSSD, Medical records, etc.
Download a list of equipment required for a General Hospital with cost estimates @ just Rs 1000.
Download Basic Hospital Equipment List for just Rs 1000
OPD furniture and medical equipment list
Equipment and furniture for an OPD consultation room typically include – doctors table and chair, examination couch, patient chairs/ stool and common resources could include – BP apparatus, ECG machine, thermometer etc.
Diagnostic Laboratory & Imaging
A basic or stat-lab usually includes cell counter, bio-chemistry analyzer, microscope, incubator, centrifuge and a refrigerator. Even if most other investigations are out-sourced, these basic equipment are needed to support a proper critical care facility. In addition a basic X-Ray and Ultrasound machine are essential for a maternity and general surgery/ Orthopedics purposes. Small facilities which cannot afford a digital x-ray opt for a HF X-Ray along with CR System to digitalise the images.
For a detailed diagnostic & imaging equipment list and cost estimate, check – https://www.primedeq.com/blog/cost-of-diagnostic-lab-equipment/
1. EKG/ECG machines
Electrocardiogram (EKG or ECG) machines record the electrical activity of the heart over a period of time and allow health care providers to monitor the overall rhythm of the heart and identify any abnormalities in an individual.
During an ECG test, electrodes are placed on the skin of the chest and connected in a specific order to ECG machine, when it is turned on, measures electrical activity of the heart. ECG is a basic diagnostic equipment in any medical equipment list even for a clinic.
Brands available are BPL Cardiart 7108, Cardiart 6208 view, Cardiart ar 1200 view, Bionet, Contec ECG 100G, ECG 90A, ECG 300G, ECG 1200 G, Schiller Cardiovit AT-1 G2, Cardiovit AT-10 Plus, Cardiovit AT 101, Nasan Cell-G, Nihon Kohden Cardiofax M, Niscomed, Sunshine, Technocare and others.
2. Hematology Analyzer / Cell counter
Hematology analyzers are used mainly for patient and research purpose to diagnose disease by counting blood cells and monitor it. Basic analyzers return a complete blood count with a three-part differential white blood cell count. Advanced analyzers measure cell and can detect small cell populations to diagnose rare blood conditions.
Brands available are Beckman Coulter AcT Diff II, AcT 5diff Cap Pierce, Abbott, Horiba ABX-MICROS-60, Unitron Biomedical, Hycel, Sysmex XP100 and other.
3. Biochemistry Analyzer
Biochemistry analyzers are the equipment which are used to measure the concentration of chemicals in a biological process. These chemicals are used in different biological processes at different stages. An automated analyzer is a medical equipment used in laboratory to measure different chemicals quickly, with less human assistance.
Brands available are Biosystem, Elitech, Robonik, Abbott Architect 14100, Architect C18200, Architect 4000, Horiba Pentra C 400, Pentra C200, Thermo Scientific Indiko, Dia Sys Respons 910, Respons 920, Biomajesty JCA-BM6010/C, Hycel Hychem 480, Hy-Sac, Rayto, Chemray-420, Chemray-240, Biosystem BTS 350, 150 test/H A 15, Erba XL 180, XL 200 and others.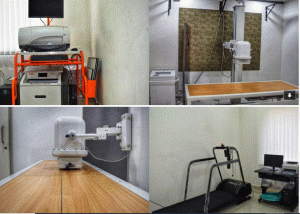 4. X-ray Machine
An X-ray machine is any machine that involves X-rays. It consists of an X-ray generator and an X-ray detector. X rays are electromagnetic radiation that penetrates structures within the body and creates images of these structures on film or a fluorescent screen. These images are called x-rays. In medical field, X-ray generators are used by radiographers to get x-ray images of the internal structures e.g., bones of a patient.
Computer radiography system is replacement of conventional film radiography. It captures x-ray image using photo- stimulated luminescence and stores images in computer system. It's advantage is that it enables digital imaging along traditional work flow of X- ray film, time saving and efficient.
Brands available are Agfa CR 3.5 0x , Allengers 100 mA x-ray, HF Mars 15 to 80 fixed x-ray, Mars series 3.5/6/6R, BPL, GE HF Advance 300 mA, Siemens Heliophos D, Fuji film FCR Profect, Konika Regius 190 CR system, Regius 110 CR system, Shimadzu, Skanray Skanmobile, Stallion and others.
5. Ultrasound
Ultrasound imaging is a technology that allows sound waves to be transmitted to a computer screen as images. Ultrasound helps the doctor to examine the patient of various health issues such as pregnant women, cardiac patient, patient having abdominal problem etc. Ultrasound can be used during pregnancies by gynaecologist and obstetrician to confirm the pregnancy, know the baby position and its heart beat and check the growth of the baby on regular basis.
The patients who are suspecting heart issues can be detected using ultrasound machine, such ultrasound machines are known as Echo, cardiac ultrasound. It can check the pumping of the heart and how strong it is. Ultrasound can also assist doctor in detecting the valve function of the heart.
Brands available are GE Logiq P3, Logiq P8, Logiq C5, BPL Ecube 5, Ecube 7, Philips HD 15, Toshiba,Mindray, Medison SA -9900, Siemens x 300, NX2, Samsung Sonoace R5, Sonoace X6, Sonosite, Hitachi, Mindray DC 7, Z 5, DP-50, Aloka F 31, Prosound 2, Toshiba Nemio XG, Skanray Surabi and others.
Critical Care/ ICU equipment
In a typical general hospital at least a 10-bedded ICU is needed to take care of a acute medical cases. Following are the most important ICU equipment. For a detailed ICU medical equipment list and cost estimate, please contact us.
1. Patient monitor
Patient monitors are medical equipment that keep accurate track of a patient's vitals and state of health during intensive or critical care. They are used for adult, pediatric & neonatal patients. Patient monitors are a must in any hospital equipment list.
In medicine, monitoring is the observation of a disease, condition or one or several medical parameters at a time. Monitoring can be performed by continuously measuring certain parameters by using a patient monitor e.g. by measuring vital signs such as temperature, NIBP, SPO2, ECG, respiratory and ETCo2.
Brands available are Skanray Star 90, Star 65, Planet 60, Planet 45, GE Carescape V100, B40, B20, BPL , Nihon Kohden, Sunshine, Contec CMS 8000, CMS 7000, CMS 6800, Omya, Mindray VS-900, VS-600, PM-60, Technocare, Niscomed, Schiller, Welch Allyn and others.
2. Defibrillators
Defibrillators is an equipment which is used to control heart fibrillation by application of an electric current to the chest wall or heart. It is a machine that makes the heart beat normally again after a heart attack, by giving it an electric shock.
Commonly used in life-threatening situations such as cardiac arrhythmia or tachycardia, defibrillators restore normal rhythm to the heart. They are essential tools that a hospital always should own.
Brands available are, GE Cardioserv, Mac i-3,  BPL Bi-Phasic Defibrillator DF 2617 R, DF 2509, DF 2389 R, DF 2617, Philips Heart Start XL, Mindray Beneheart D3, Nihon Kohden Cardiolife AED 3100, Physio control Lifepak 10, HP 43100A, Codemaster XL, Zoll and others.
3. Ventilator
A ventilator is a machine designed to pass breathable air into and out of the lungs, to ease breathing for a patient who is feeling difficult to breathe. Ventilators are mainly used in ICU, home care, and emergency and in anesthesia associated with anesthesia machine.
Ventilators are a must in any medical equipment list if you have an ICU.
Ventilation systems are categorized as a life critical system, and it should be safe guarded and must ensure that they are highly reliable, including their power-supply. Ventilators are designed in such a way that no single point of failure can endanger the patient.
Brands available are Schiller Graphnet TS, Graphnet Neo, Graphnet Advance, Smith Medical Pneupac, ParaPAC, VentiPAC, Siemens, 300 & 300A, Philips v680, v200, Drager v500, Savina 300, Neumovent and others.
4. Infusion Pump
An infusion pump infuses fluids, medication or nutrients into a patient's body. It is generally used intravenously, although subcutaneous, arterial and epidural infusions are also used occasionally.
Infusion pump can deliver fluids and other nutrients in such a way that it will be difficult if done by a nurse. E.g., Infusion pump can deliver as little as 0.1 mL per hour injections which cannot be done through a drip injection every minute, or fluids whose volumes vary by the time of day.
Brands available are BPL Acura V, Micrel Medical Device Evolution organiszer 501,  Evolution Yellow, Evolution Blue, Smith Medical, Sunshine Biomedical and others.
5.Syringe Pump
Syringe pump is a small infusion pump which has a capability to infuse and withdraw and it can be used to gradually administer small amounts of fluid with or without medication to a patient. Syringe pump prevents the time in which medication levels in the blood are too high or too low as in usual drip hence this equipment saves time of the staff and also reduces errors. It also avoid the use of multiple tablets especially the patient who have difficulty in swallowing.
Syringe pump are also used to administer IV medications for several minutes. In the case where medication should be slowly pushed in over the course of several minutes.
Brands available are BPL Evadrop SP-300, Acura S, Niscomed SP-01, Sunshine SB 2100, Smith medical Medfusion 3500, Graseby 2100, Graseby 2000 and others.
Operating Theatre(OT)
One or two Operating theatres are essential for a secondary care facility for maternity and general surgery cases. The following are medical equipment needed in OT and sterilization.
11. Surgical lights / OT Light
A surgical light which is also called as an operating light is a medical equipment which helps medical personnel during a surgery by illuminating on a local area of the patient. There are several types in the surgical lights based on their mounting, type of light source, illumination, size etc. as Ceiling type, Mobile OT light, Stand type, single dome, double dome, LED, Halogen etc.
Brands available are Philips, Dr. Med, Hospitech, Neomed, Technomed, United, Cognate, Mavig and others.
12. Surgical tables/ OT tables
Surgical tables are necessities for a hospital. For patient preparation, surgical procedures and recovery, these pieces of equipment are essential.
An operating table or surgical table, is the table on which the patient lies during a surgical operation. The surgical table is used in the Operation theatre. An operating table can manual / hydraulic or electric (remote control) operated. Selection of surgical table depends on type of procedure to be conducted as orthopedic set-up need a surgical table with ortho attachments.
Brands available are Suchi dental, Gems, Hospitech, Mathurams, Palakkad, Confident, Janak and others.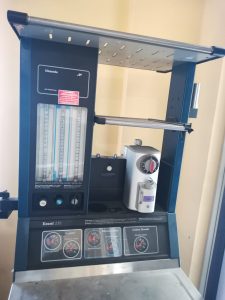 13. Electrosurgical unit / Cautery machine
An electrosurgical unit is used in surgery to cut, coagulate, or otherwise alter tissue, often to limit the amount of blood flow to an area and increase visibility during a surgery. This equipment is crucial to cauterizing and minimizing blood loss during surgery.
An electrosurgical unit (ESU) comprise of a generator and a handpiece with electrodes. The device is managed using a switch on the handpiece or a foot switch. Electrosurgical generators can produce a variety of electrical waveforms.
The electrosurgery technology used to seal blood vessels up to 7mm in diameter is known as vessel sealing, and the equipment used is vessel sealer. Vessel sealer is used laparoscopic and open surgical procedures.
Brands available are BPL Cm 2601, Cuadra Epsilon 400 series, Epsilon Plus Electro surgical unit and vessel sealer, Eclipse, Galtron SSEG 402, SSEG 302, 400B plus, Hospitech 400 W, Mathurams 200 W, Sunshine SD 400, Technmed 250 EB Alan and others.
14. Anesthesia machine / Boyle's apparatus
The anesthetic machine or anesthesia machine or Boyle's machine is used by physician anesthesiologists to support the administration of anesthesia. They provide an accurate and continuous supply of medical gases as oxygen and nitrous oxide, mixed with an accurate concentration of anesthetic vapour such as isoflurane and deliver this to the patient at safe pressure and flow. Modern anesthesia  machines incorporate a ventilator, suction unit, and patient monitoring  devices.
Brands available are GE- Datex Ohmeda, Aestiva Aespire, DRE Integra, Ventura, Maquet, Drager – Apollo, Fabius, Mindray A7, A5, Medion, Lifeline, L & T, Spacelabs, Skanray Athena SV 200, SkanSiesta, Athena 500i, BPL E – Flo 6 D, BPL Penlon and others.
15. Suction apparatus / Suction machine
It is a medical device used to remove different types of secretions including liquid or gaseous secretions from the body cavity. It is based on the principle of vacuuming. There are mainly two types of suction apparatus, Single jar and double jar type.
Suction may be used to clear the airway of blood, saliva, vomit, or other secretions so that a patient may breathe properly. Suctioning can prevent pulmonary aspiration, which can lead to lung infections. In pulmonary hygiene, suction is used to remove fluids from the airways, to facilitate breathing and prevent growth of microorganisms.
Brands available are Hospitech, Galtron, Mathurams, Niscomed and others.
16. Sterilizer / Autoclave
Hospital sterilizers kill all forms of microbial life including fungi, bacteria, viruses, spores, and all other entities present on surgical tools and other medical items. Usually sterilization process is done by bringing an instrument to a high temperature with steam, dry heat, or boiling liquid.
An autoclave sterilizes equipment and supplies using high-pressure saturated steam for a short period of time.
Brands available are Modis, Hospitech, Primus, Steris, Galtron, Mathurams, Castle and others.
Labour Room & Labour Ward medical equipment list
The Labour room must be equipped with a Labour cot/ LDR couch along with NST machine, vacuum apparatus, radiant warmer and exam light. The Labour ward should have patient monitors, syringe and infusion pumps and other basic vitals monitoring equipment apart from patient cots.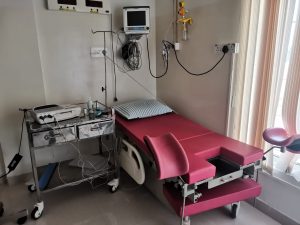 For a more detailed list of maternity and NICU hospital equipment, check out –
Download a list of equipment required for a General Hospital with cost estimates @ just Rs 1000.
Download Basic Hospital Equipment List for just Rs 1000
We can help you with medical equipment list and cost estimates for other specialities including –
Diagnostic Lab
Eye Hospital,
Cardiac Hospital,
IVF & Andrology,
Maternity & NICU Hospital
Diabetes Centre,
ENT Hospital and more
——————————————————————————————————————————
PrimedeQ is an e-Marketplace for buying, selling, renting, servicing and spares of medical equipment. We offer all types of used / refurbished medical equipment , including ENT equipment, Laparoscopic Equipment,  Lab equipment, X-Ray, TMT, ECG, anesthesia machine, ultrasound machines etc.  We offer all types of labour room equipment, hospital furniture,  laparoscope , endoscope and ultrasound probe repair services etc.
Contact us on +91 8971223957/ 7019759765 or [email protected]