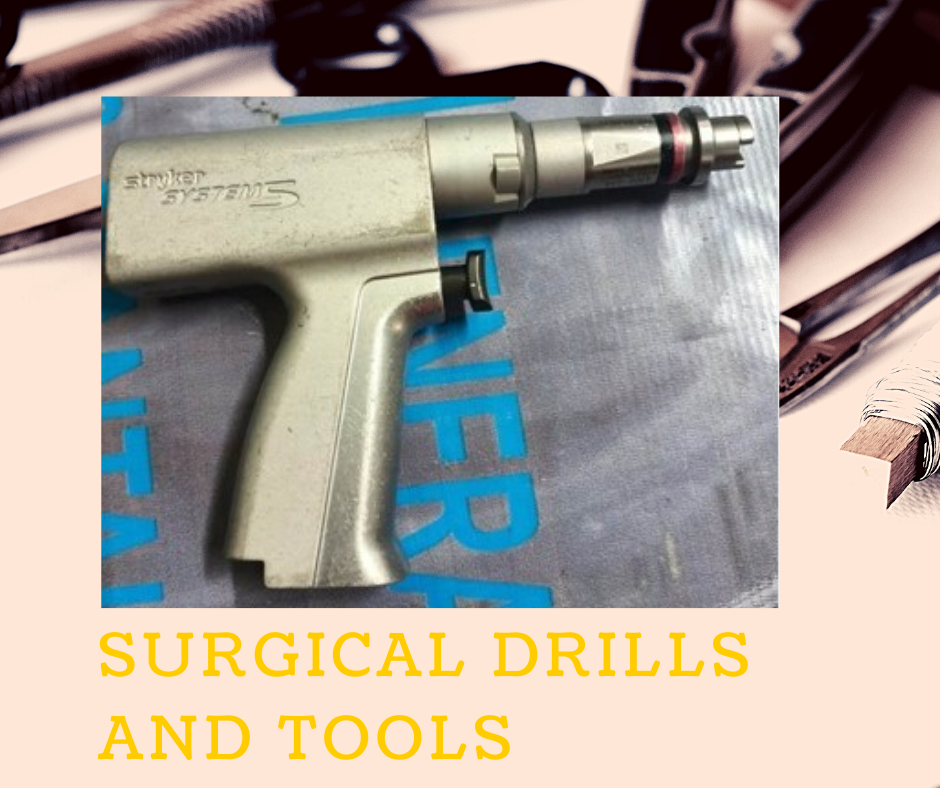 An Ortho drill is a pneumatic or electric device that is used by an orthopedic surgeon to make holes in bones for fixing immobilization screws, wires, plates, implants and fitting prosthetic devices etc. If you have had a fracture, the treatment will involve ensuring all the bone parts are properly set and held together in their original position. Additionally they need to be immobilized until it heals completely on its own. Surgical power tools are used in various applications such as microsurgery (especially in microneurology and ENT microsurgery) and Orthopedic surgeries.
Dep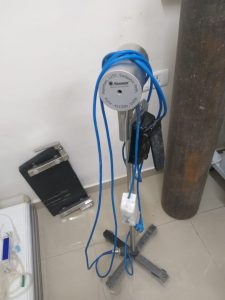 ending on the application it is important to consider other parameters in selection of surgical tools.
Power to Weight ratio of the instrument: compact and light surgical power tools are comfortable for a surgeon to use, especially during long operations. Battery operated tools, while giving freedom of movement, also tend to be heavier due to the battery weight. Electric tools are lighter. it is essential to have a powerful, yet lighter surgical tool for applications such as orthopaedic or veterinary surgery when working on large animals, as the surgery could be longer.  In such cases power-to-weight ratio is important. On the other hand, for microsurgery, the power of the motor won't be the most important element to consider.
Shape of the instrument: Gun-shaped surgical power tools are useful in orthopaedic operations on large bones. Smaller pen-shaped drills are more suitable for microsurgery or small bones.
Versatility of the device: Some models have only one function, so one has to keep changing the device during surgery. In other models it is possible switch hand-pieces to alternate between tools (saw, reamer, drill etc.).
It is also important to go for noise-less models as noisy ones can be stressful especially in long operations.
What are types of Ortho drill systems available?
There are 3 types of Ortho drills based on their power source – Battery, Pneumatic, and Electric. Let's take a look at the Pros and Cons of each type.
Type of Ortho drill

Pros

Cons

Battery Powered
1. Batteries provide great freedom of movement

2. More recent feature additions in  battery surgical systems

3. The presence of a double trigger feature allows you to change the direction of the device's screwing and/or drilling with the simple pressure of a finger.

1. Sudden dying batteries may interrupt work. Always need to keep spare batteries especially for long surgeries.

2. Ongoing cost of battery replacements is high.

3. If the OEM declares the device end-of-life batteries may not be available any more.

4. Batteries make the tool heavier.

Pneumatic
1. Pneumatic systems use compressed air unit to power the surgical tools like ortho drill. This means one need not worry about power outage.

2. They are cheaper to repair, compared to battery and electric options

3. Least upfront cost of purchase

4. Replacement parts availability for pneumatic systems is much better. Cost-effective third-party servicing is easily available.

1. Slightly more repairs than electric or battery if the air supply is dirty or humid.

2. Higher risk for fluid invasion that may cause the handpiece to get stuck.

3. The gas/air supply hose restricts movement as compared to a battery device

Electric
1. Continuous power supply as against battery-power

2. Cheaper and low maintenance

3. Lighter than most pneumatic and battery option

1. Shorter service life and expensive to repair

2. The electric cord restricts movement compared to a battery system

3. Will stop working if the power goes out or needs a power back-up.
Advantages and disadvantages of Battery-operated Ortho drill
Freedom of movement in surgery is the biggest advantage of a battery-operated ortho drill. Electric or pneumatic surgical drills restrict movements due to the power cord or hose for gas supply. The flipside is the risk of battery dying during the surgery and requiring replacement. One needs to constantly buy and stock batteries. Battery costs can contribute to high operating cost. If the OEM declares the system as end-of-life and stops producing the batteries, you may be forced to upgrade the drill. Using compatible non-OEM batteries may not always be an option.
Lithium vs NiCad
Lithium-ion (or Li-ion) batteries are smaller in size, lighter, low maintenance and provide more energy than NiCad batteries. They are also environmentally safer than NiCad batteries. If using NiCad batteries, one has to be careful while disposing the batteries as Cadmium is toxic and hazardous.  For hospitals even though Li-ion batteries may cost more up front they may be better as compared to NiCad batteries due to their longer shelf life and run-time.
However, shipping or travelling with an Ortho drill may be a problem as airlines do not allow Li-ion batteries.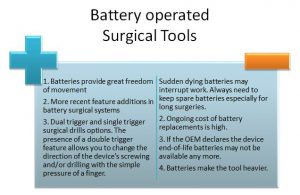 Electric Surgical Tools
If you have continuous power supply and UPS back-up in the hospital, Electric ortho drills are a great option to go for. With electric drills one need not be worried about running out of batteries. Electric Ortho drills are also lighter than other drills and low-maintenance compared especially to pneumatic drills.
Electric drills being connected through power cord may not accord the freedom of movement as compared to battery-operated system, but are still easy to use.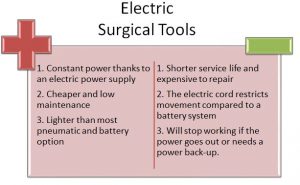 When to go for Pneumatic Ortho drill
With a pneumatic tool you will have to ensure constant gas/air supply and work with the hose connected. However, this may be the best option if your hospital is in a smaller town with  irregular power supply.
Pneumatic ortho drills are also cheaper in terms of upfront investment and also cheaper to maintain as compared to constant cost of expensive batteries.
Pneumatic Ortho drills require regular cleaning and maintenance. If the gas supply is not clean enough, it may need more frequent servicing of the equipment. There is a risk of fluid invasion, which may stall the hand-piece. Even though pneumatic ortho drills require regular maintenance, they are cheaper to repair as compared to electric or battery operated ortho drills. Replacement parts availability is also better for pneumatic drills.
Sterilization – Always follow OEM instruction to sterilize ortho drill hand-pieces to avoid corrosion and damages.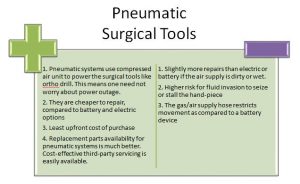 —————————————————————————————————————————
PrimedeQ is an e-Marketplace for buying, selling, renting, servicing and spares of medical equipment. We offer all types of used / refurbished medical equipment , including Surgical drills, endoscopes, OT equipment, Laparoscopic Equipment,  Lab equipment, X-Ray, TMT, ECG, anesthesia machine, ultrasound machines etc.  We offer repair of surgical drills, microdebrider,  laparoscope , endoscope and ultrasound probe repair services etc.
Call us on +917019759765 or Contact us for Refurbished Surgical Drills.