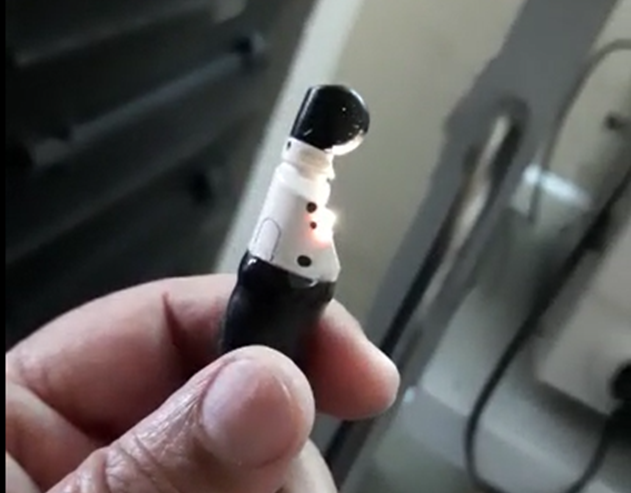 Sonoendoscopes or Endoscopic Ultrasounds are expensive and relatively fragile. These equipment need good care and proper handling is important. The fiber-optic cables are fragile and easily damaged. Most common damages or defects in endoscopic ultrasound machines are blockages, leakages, angulation, image quality issues etc. Endoscopic ultrasound repair services are available in India – Air or water channel replacement, angulation adjustment, air / water nozzle unclog or replacement and other issues like Angulation rubber replacement, Air/Water nozzle unclog and/or replacement, Air/water channel replacement, Angulation adjustment, Variable stiffness adjustment, Angle drive rebuild, Control button replacement, Light guide tube/universal cord replacement, Biopsy channel replacement, Suction channel replacement, Suction cylinder or Air / water cylinder unit replacement and Minor & Major fluid invasion
Most Common Endoscopic Ultrasound Repairs
Repair/ Renewal of the bending rubber – One of the most annoying endoscopic ultrasound repair issues is that it does not bend or angulate smoothly. Angulation may be tight or doesn't angulate as per manufacturer specifications. Bending section may bend irregularly or turn to wrong side. There are several reasons this may happen – e.g Forced angulation may lead to stretch or break in angulation wires. Buckling of the insertion tube can also stretch and break wires. If you notice any 'play' in the angulation control knobs, this usually indicates an angulation adjustment is needed. Angulation adjustment / angulation wire replacement, bending section mesh or articulating section replacement solves these problems.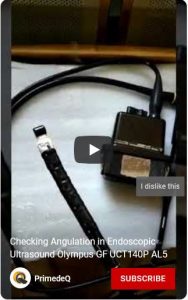 Refurbishment or Lens replacement for ultrasound probe head – There could be small air bubbles, cracks or holes on the lens. These can not only render poor quality images, but also further spoil the probe if not repaired early. Lens replacement can solve this problem. Unlike other endoscopes this is a specific endoscopic ultrasound repair issue and can be handled by a specialist service provider in ultrasound probe repairs.
Renewal of the fiber optic cables – May be required if there is damage or breakage. This can be easily detected when the quality of image is deteriorating.
Connector repair – Connector pin could be damaged due improper insertion and can result in poor, inconsistent images. If the connector pins are broken or damaged, the connector may require repair or replacement. Frequent pressure or pulls on the strain relief between the cable and connector could end up damaging the connection.
Exchange of control knobs – If buttons are not working or cause constant freezing and beeping of Processor, this may also be due to fluid invasion. Buttons may need to be replaced.
Air / water valve replacement and Suction valve replacement – If any of these valves are malfunctioning and it is not possible to irrigate, or rinse the soiled parts, they may need replacement. In particular the suction or aspiration channel may be prone to potential soiling and clogging caused by different secretions or even small solids in the patient body. This is one of the most common endoscopic ultrasound repair or replacement work requirements.
Exchange of supply hose
Replacement of insertion tube
Repair or Replacement of the mechanical control unit
Replacement of the biopsy and flushing channel – biopsy or suction channel replacement may be required due to blockage and/or wear and tear. Damage to Biopsy Channel is usually caused because of – Kinked, damaged or open Flexible Endoscope biopsy forceps causing tears in the channel material. Buckling of the insertion tube can also cause stretch and strain in the channel. Forcing instrumentation through the channel can cause wear or tears in the channel material. This happens due to forced insertions when the scope is not bending as required. Ensure manufacturer specifications are adhered to and not force any instrument beyond the point. You will know if channel replacement is required – If instruments do not pass or blockage / resistance is felt in the channel. Buckles or tears are seen in the channel material. If poor suction is noticed, if a groove is worn in suction port, suction is decreased etc.
Proper handling & care of endoscope – Do's & Don'ts
The endoscope must be wound in a gentle coil, rather than folding it in sharp angles or tight coils.
Dropping the endoscope must be avoided at all costs. Never allow a wheeled cart to roll over it or cause any type of physical collision which could damage the transducer head or camera head..
After each use, any gross contamination and suction water through the endoscope must be washed-off.
Never let blood, mucus, stool, or other foreign matter to dry on the endoscope, transducer lens or in the channels or valves.
One must be careful to follow the manufacturer's instructions for sterilization to avoid potentially severe damage to the equipment.
Reliable Endoscopic Ultrasound or Sonoendoscope Repair Services in India
Proper care and handling can extend the life of endoscopic ultrasound (EUS), but in some cases, you'll need a reliable repair service. When it comes to customer service, technical service and all other kind of medical assistance with respect to repairs and servicing, PrimedeQ can assist you in some of the most common types of endoscopic ultrasound repairs and refurbishment:
1. Repair/ Replacement of the bending rubber
2. Angulation adjustment
3. Refurbishment or Lens replacement
4. Renewal of the fibre optic bundle.
5. Connector repair
6. Replacement of control knobs
7. Air / water valve replacement
8. Suction valve replacement
9. Supply hose replacement
10. Replacement of insertion tube
11. Adjustment or Replacement of the mechanical control unit
12. Replacement of the biopsy and flushing channel
We handle endoscopic ultrasound repairs as well as flexible endoscope repair for most Olympus, Pentax models owing to our backend team and Service Partners.
—————————————————————————————————————————
PrimedeQ is an e-Marketplace for buying, selling, renting, servicing and spares of medical equipment. We offer all types of used / refurbished medical equipment, including endoscopes, OT equipment, Laparoscopic Equipment, Lab equipment, X-Ray, TMT, ECG, anesthesia machine, ultrasound machines etc. We offer microdebrider, laparoscope , endoscope and ultrasound probe repair services etc.
Call us on +917019759765 or +918971223957