How to decide what is the right price of a used medical equipment? Buying pre-owned medical equipment is a cost-effective way of acquiring medical devices and products. Another advantage of buying refurbished medical equipment is to get newer technology at an economical cost.
Used medical equipment Value Calculator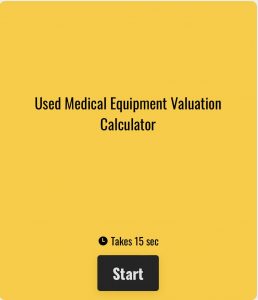 While buying used medical equipment the essential question is what is the right price for the used medical device? Often sellers argue that their equipment is 'almost new', 'hardly used' to get a better price. The fact is the buyer is interested in used medical equipment because it is 'sparingly used'. If it is highly used, it is likely to be well worn-out and hence not very desirable.
As a matter of fact, the price of the used medical equipment is always based on the demand-supply gap. An item, however well-maintained, is unlikely to find a buyer, if not in demand. Whether you are buying or selling a used medical equipment the critical question is how does one arrive at a price?
Key Factors deciding price of second hand medical equipment
From our past experiences, the following are the key factors that go into determining (mathematically speaking!) the purchase price of pre-owned equipment:
1. The current market price of the new/original equipment
This is really the starting point. Very often there are better and newer versions of the equipment available in the market
even from the same manufacturer. Therefore even though the seller may have paid a higher price a few years back, the buyer is only going to consider the current market price. Generally, otherwise, the invoice value of the equipment is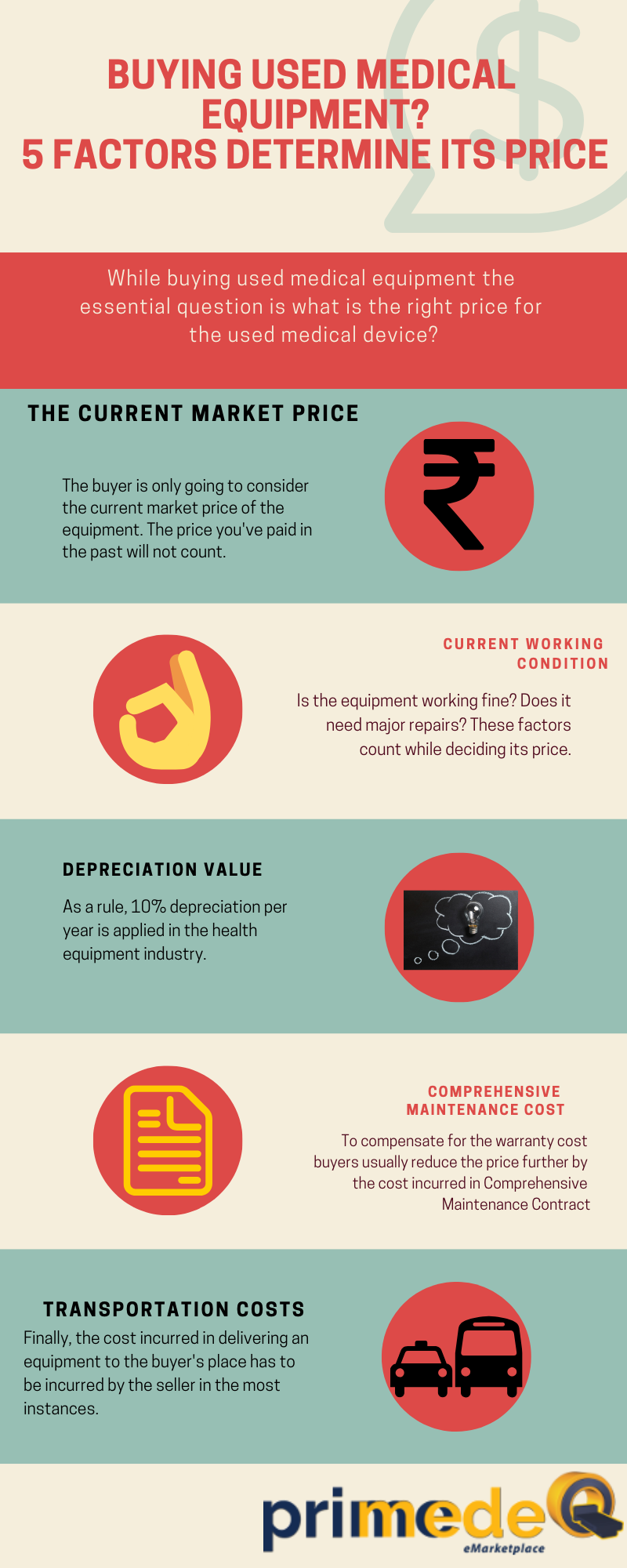 considered as the starting point.
2. Current working condition:
The equipment and accessories need to be thoroughly inspected for all its functionalities. If any major repair needs to be carried out, it is saleable only as junk for the value of its 'spares'. Cost of any minor repair generally needs to be borne by the seller before the sale.
3. Depreciation / Residual life:
The residual life of the equipment varies from item-to-item and between different makes/models. Some items are known to be sturdy and may last even 10-15 years (or more!), while some others may not be considered worth much even just after 5 years. Generally, 10% depreciation per year is applied irrespective of the accounting standards.
4. CMC/ Warranty Cost:
New equipment comes with the warranty of at least one year or more from the manufacturer. Since used equipment would be without any warranty, buyers usually reduce their offer further by cost equivalent to Comprehensive Maintenance Contract (CMC). Some of the Original Equipment Manufacturers (OEMs) are willing to cover the equipment with CMC or AMC as long as the equipment has been maintained well and not been touched by others.
5. De-commissioning, transportation, and re-commissioning & General servicing:
This additional cost needs to be borne by the buyer hence the offer will be lower by this amount further.
Also, the timing of the sale is very important. Any distress sale is likely to fetch less. Considering the item being sold is in-demand, a seller is likely to get the best possible price by generating competition among multiple interested buyers at the same time.
The point to remember while selling used medical equipment to hospitals is that the buyers are looking for a 'bargain'. Hence, all things considered, a good deal is what is available for at least 5-10% less. Most deals fail since the price agreement does not reach this "zone of perceived 'good deal'.
At PrimedeQ we use our tried and tested methodology to arrive at a fair price for equipment. We connect hospital to hospital for the sale of used medical equipment. This way, we eliminate multiple intermediaries and hence both buyer and seller benefit by getting a better deal. We also can bring in multiple buyers in a short period of time. PrimedeQ is India's first comprehensive e-Marketplace for all things related to medical equipment.