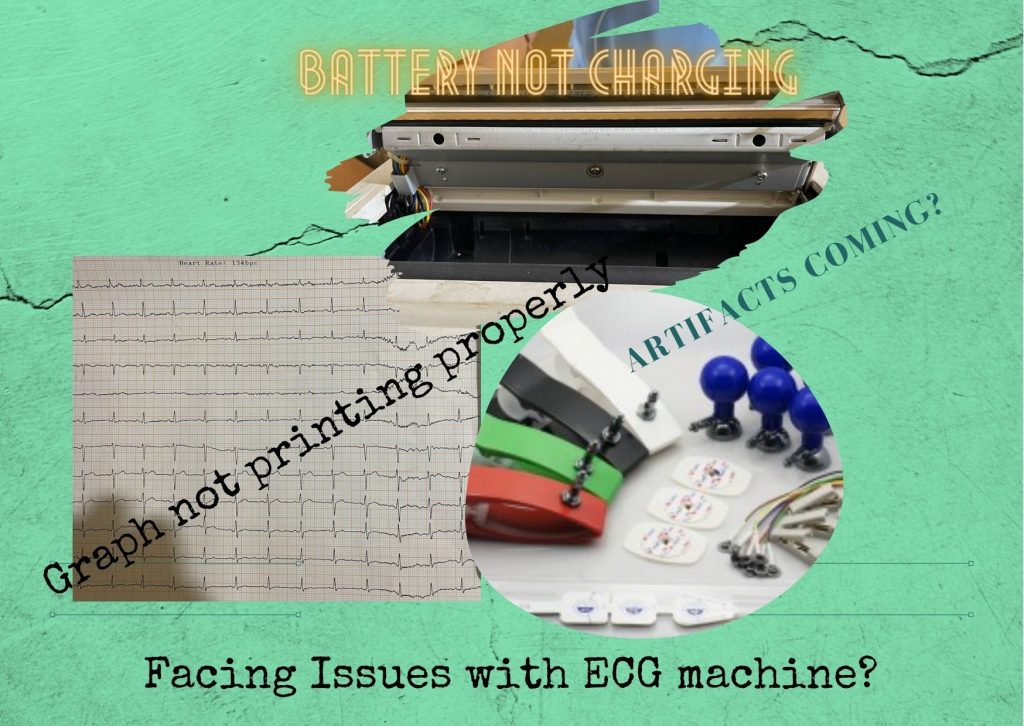 ECG (Electrocardiograph) machines are commonly used in clinics and hospitals to monitor and record the electrical activity of the heart. The ECG thus recorded may be displayed on an in-built monitor and/or printed out on paper for use by a physician. However this simple machine may sometimes give trouble and not work properly. What are the common ECG machine repair issues faced in hospitals?
Spares & accessories for ECG machine
The main spares & and accessories of ECG machine used to perform the above functions include
• ECG electrodes & leads that are connected to the patient to gather electrical activities of the heart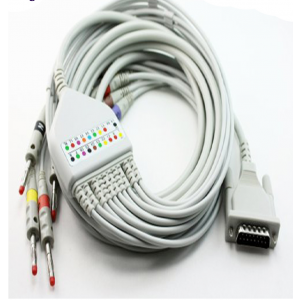 • Thermal printer head
• ECG paper – to print the graph
• Battery – Even though ECG machines run off the main power supply, most of them have internal batteries for back-up
Common ECG machine repair issues
The top 4 problems faced by users of ECG machines are:
Poor data acquisition – Readings not coming properly is the most common problem. If this happens, check if there is proper connection to the patient. Often the electrodes and/ or leads are not clean or not in good condition. Often the electrode is not making proper contact with patient skin due to hair or inadequate ECG gel etc. If the electrodes are not cleaned properly on a regular basis, they may start getting corroded.
Noise & Artifacts –Often uncleaned gel invasion in electrodes causes corrosion and noise. Noise or artifacts may be noted in the ECG due to electrical interference from other equipment or poor earthing. Proper earthing is a crucial matter for machine, patient and operator safety.
Poor quality graph – If the graph quality is poor or faded, check the thermal printer head.
Power & charging issues – While in clinic or hospital, an ECG is run from main power. Users often neglect to check the battery status. When the machine is taken out of the facility, say for a camp, it is suddenly discovered that the battery is not charging. Check the condition of the battery or power charger regularly to avoid this problem. Another problem often faced is voltage fluctuations, resulting in fuse blowing off.
If an initial troubleshooting exercise rules out any of the above problems, it may be time to call in the manufacturer or their service agent.
Looking to buy a used or new ECG machine and wondering how to decide which one to buy? Check out our detailed blog
—————————————————————————————————————————
PrimedeQ is an e-Marketplace for buying, selling, renting, servicing and spares of medical equipment. We offer all types of used / refurbished medical equipment , including ECG machine and other diagnostic equipment, endoscopes, OT equipment, Laparoscopic Equipment,  Lab equipment, X-Ray, TMT, anesthesia machine, ultrasound machines etc.  We offer  repair services for all types of medical equipment including Lab equipment, microdebrider,  laparoscope , rigid and flexible endoscopes as well as EUS (Endoscopic Ultrasound Units) and ultrasound probe etc.
---