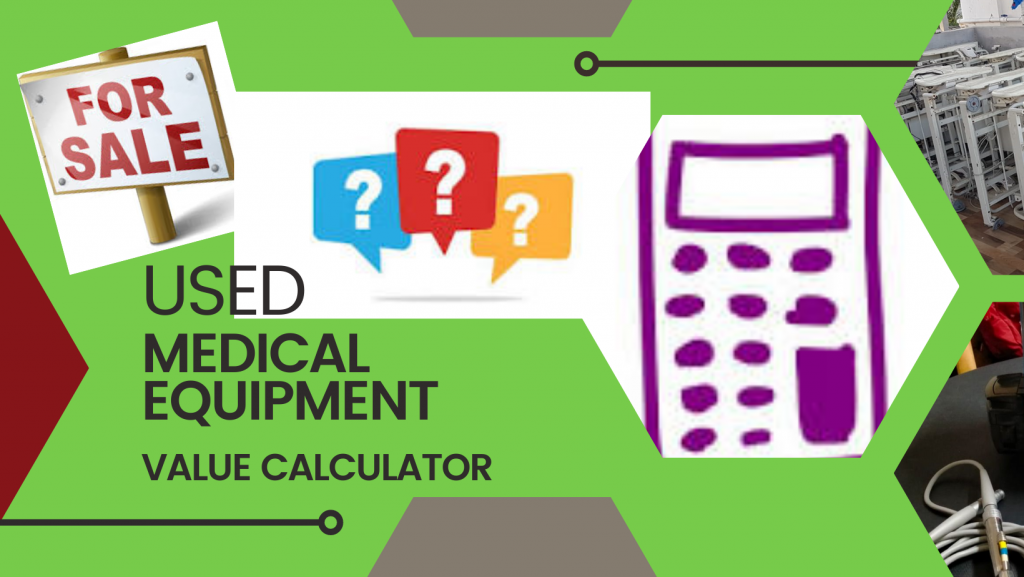 If you ever tried to sell or purchase a used car in India, then you probably tried to find its market value using a calculator. There are many used car platforms offering a calculator such as CarWale, Cars24, Orange Book Value or Spinny etc. Have you tried to find market value of used medical equipment? If yes, I am sure that was not easy.
Finding used medical equipment fair market value – A challenge
Unlike the used car industry, finding market value of used medical equipment in India is nearly impossible. Why?
First and foremost there are too many makes and models of medical equipment to choose from. Although used or refurbished equipment are affordable solutions for small & medium hospitals, they are never sure of the actual price of any of the equipment. Original equipment price varies widely and there is complete lack of transparency in the market.
Secondly, apart from the original cost of the equipment, there are many other factors that decide the price of the used equipment. Some of these factors are applicable depreciation rates, service history, current functional status, service support or spares availability etc. Small & Medium hospitals and doctors do not have access to much of this information.
As a result, doctors don't know how much to quote, when they wish to sell and what a reasonable offer is when they want to buy used medical equipment.
Primedeq India launches used medical equipment value calculator
www.Primedeq.com, a leading e-marketplace for medical equipment, has several years of experience in assisting hospitals in selling, buying, servicing and renting all types of medical equipment. We have put together our collective knowledge and market information meticulously gathered over several years to develop this used medical equipment value calculator. This is just a starting point; we will continuously upgrade the calculator with feedback from our users. The Market Value Calculator is based on type of medical equipment, manufacturer/model, year manufactured etc.
Currently PrimedeQ is the only site offering users this feature, and that too absolutely for free!
No more suspense! To check out the Market Value Calculator Click here.
To know more about used medical valuation methodology read on…
—————————————————————————————————————————
PrimedeQ is an e-Marketplace for buying, selling, renting, servicing and spares of medical equipment. We offer all types of used / refurbished medical equipment, including A-Scan machine and other Ophthalmology equipment. You will also find used endoscopes, OT equipment, Laparoscopic Equipment, Lab equipment, X-Ray, TMT, ECG, anesthesia machine, ultrasound machines etc. We offer repair services for all types of medical equipment including A-Scan repair service, microdebrider, laparoscope, rigid and flexible endoscopes as well as EUS (Endoscopic Ultrasound Units) and ultrasound probe etc.