Are you planning to buy an existing Diagnostic Centre or a small Hospital? Wondering how much to pay for the used medical equipment and related assets that you want to buy? Mostly one should consider paying the Fair Market Value. How do you arrive at the Fair Market Value for used medical equipment? What are the various approaches or methodologies used for valuation of assets such as medical equipment? Should you pay a premium for the existing patient base or business? Read on to find answers to all these questions.
Looking for simple calculator for checking how much your equipment will sell for?
Try our used medical equipment value calculator.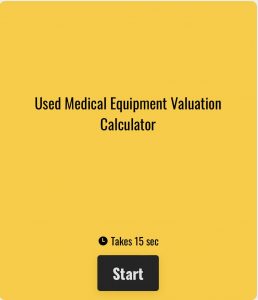 Approach to Medical Equipment Valuation
There are three commonly used approaches for Asset Valuation – Book Value, Market Value and Future Revenue Potential.
Book Value Approach
The book value of medical equipment reflects the current cost of the equipment adjusted for depreciation based on Income Tax rates. The IT rate applicable for most medical equipment is 30-50% and hence depreciated over 4-7 years.
The book value approach may be suitable for relatively newer equipment, say just 1-2 years old or less. Especially if they have been sparingly used and with no repairs done so far. Considering an average life span of 5 years, equipment loses the best years of its life in the first 1-2 years. Hence its book value in early years does reflect its correct value.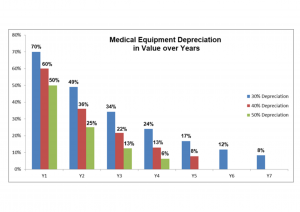 However the book value method does not account for other forms of depreciation such as:
Physical deterioration – A form of depreciation where loss of value is attributable to physical causes such as wear & tear, damages, sub-optimal repair, replacement of original parts with other compatible ones etc.
Functional Obsolescence – Depreciation due to factors inherent in equipment and due to change in design, upgrades, software revision etc.
Economic Obsolescence – Depreciation due to impacts from external factors like legislation, statutory requirements, market dynamics etc.
These above forms of depreciation are more pertinent to older medical equipment valuation.
Fair Market Value Approach
Market rate/ value method takes into consideration all the above forms of depreciation in value of the asset. This approach is based on market demand or desirability of the medical equipment.
Normally, average useful life of any medical equipment is expected to be between 5-7 years. However, if well-maintained, medical equipment may continue to be used for a longer time, say another 5 years. Beyond that, medical equipment is highly likely to be technologically obsolete and difficult to support.
Several high-end medical equipment are quite sturdy, e.g. CT and MRI and do not necessarily face functional obsolescence as fast as others. They have much longer life-expectancy especially if refurbished well and enjoy high market demand in the pre-owned market. Their value is based on recent sale value of similar equipment in the market, so as to estimate the most probable selling price.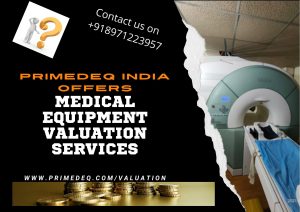 Difference between "Refurbished" and "Second Hand" medical equipment
While evaluating pre-owned medical equipment, it is important to understand that there is a big difference between high-quality refurbished equipment that has undergone refurbishment process to the Original Equipment Manufacturers' (OEM's) specifications and second-hand equipment of undefined quality.
A used or second-hand machine may be presently in good working condition, but may have some worn-out parts and hence has higher probability of breaking-down anytime. A refurbished machine has less chance of break-down, just like a new one. What is the difference between "repair" and "refurbishment" or "second hand" vs "refurbished" equipment? To know more read https://www.primedeq.com/blog/used-vs-refurbished-medical-equipment-5ws-and-h/
In short, recently refurbished equipment will have better value than used equipment of the same age.
Factors influencing Used Medical Equipment Valuation
Potential value of used medical equipment depends on some of the following factors:
Obviously newer the machine higher the value. Most equipment has a useful life of and is depreciated over 5 years. Some depreciate faster, some slower. Based on its age and the type of equipment one can decide as shown in depreciation table above.
Sparingly used or Heavily? – For the same age, if the equipment has been sparingly used, wear & tear will be less and hence, it will get better value. Equipment that has experienced heavy usage is generally avoided or gets lesser value.
Equipment need regular preventive maintenance and calibration, so as to be in good working condition. Equipment that has been poorly maintained is generally expected to be in poor condition. If a proper service history has been maintained, it is evident that the equipment has had regular maintenance. It is also possible to study the type of failure that has occurred in the past, if any, and if the failures in any way diminish the equipment's value.
E.g. Failure analysis of more than 100 ultrasound machines in a study showed that 30.5% failures were due to software, 40.7% due to hardware and 28.7% due to Ultrasound probe. Now software updation, setting correction etc. are easier than say board repairs. Similarly in ultrasound probes, lens replacements, connectivity issues, cable tears etc. are easier to handle, while if Crystal is broken, the probe is not repairable at all.
All such issues have to be taken into consideration while evaluating the cost of the machine. Hence availability of Service History improves the value of the equipment.
Generally, equipment under Original Equipment Manufacturer (OEM) maintenance enjoys better demand and premium in the pre-owned equipment market. Equipment not under any regular preventive maintenance even from a third-party service provider has higher probability of break-down anytime. Accordingly the valuation reflects suitable depreciation and decreased valuation of such medical equipment.
Condition & Upgrade-ability within reasonable cost
Let's categorize the condition of the equipment from Tier 0 to Tier 4, with Tier 0 being "to be condemned" and Tier 4 being "as-good-as-new". Evidently, bringing a Tier 2 machine to Tier 3 level could be affordable, but bringing a Tier 0 machine to Tier 4 may just cost too much. It may instead be better to buy a new machine.
Whether the model, version and configuration is in demand. How current is the technology? Out-dated technology level may either require too much work or may not even be upgradeable to saleable technology configuration. E.g. GE Logiq P5 has been a very popular and longest-running ultrasound machine from GE Healthcare. Launched in 2006, it has been substantially upgraded in 2011, both in hardware and software terms. Hence while it is a popular machine, buyers prefer equipment manufactured from 2011 onwards and not older than that.
Phase in the life cycle of the system
The phase in the lifecycle of a system is generally defined by spare part availability. Since lack of spare part availability limits the ability to service a system, it is an important criterion for medical equipment valuation. If an OEM has already declared the model end-of-life, spare part production and hence availability may gradually start getting difficult.
Future Revenue Potential Approach
The income equipment can earn in an established place would be significantly more than the same equipment in a new set-up – just because of higher usage. As such an established diagnostic centre or hospital gives a head-start in business terms that gives more value for the investment in the equipment.
The Future Revenue Potential approach considers value of the patient flow accrued over the years and potential income it can earn due to it in early years – also referred to as Goodwill in valuation terms. For a Diagnostic Centre or Hospital this could be equal to profits earned in 2-3 years. It really depends on the estimated gestation period of the business concerned.
Hence this method considers not only the recent market price of similar equipment, but also a premium to be paid for established business.
However one may not use this to evaluate individual equipment, since it is not possible to attribute Goodwill to specific asset. As such this approach may be applicable at overall business unit level.
Typical valuation based on the three approaches may stack-up somewhat like this: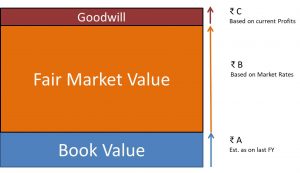 Beware of Legal & Financial issues in Medical Equipment Valuation
There are a few legal, financial and statutory considerations that may adversely impact value of medical equipment. Be aware of these issues and check them out before making an offer or advance payment.
Statutory Requirements
In India Radiology equipment need to be registered with and have operating license from AERB. AERB no longer permits usage of radiology equipment that is older than 10 years. Existing equipment should have de-commissioning approval from AERB to be provided approval for purchase and re-installation. Any equipment which currently does not have AERB license simply cannot be re-installed, so it has only scrap value. AERB could shut down operations of any unit not in compliance with its radiation safety requirements.
All Ultrasound machines must have PC-PNDT license before purchase and NOC is required from local Health authorities to sell and transfer ultrasound machine.
If statutory licenses are not available value of the medical equipment goes down drastically.
Taxation, cost & other Expenses
Some people believe Goods & Services Tax (GST) is applicable only for purchase of new medical equipment. This is not true. GST is applicable on sale of used equipment too, at the same rates as applicable for new items.
De/ Re-commissioning & Transportation Expenses
Decommissioning, insurance, transportation or re-installation expenses will be additionally incurred by the buyer for several types of equipment. For better safety of the equipment OEM standards of dismantling, packing and shipping practices need to be followed. This additional cost needs to be taken into consideration in deciding the value of used medical equipment.
Legal Issues
Check if there are any legal issues pertaining to the equipment. It could be ownership or encumbrances related issues.
Financial Liabilities
Check if there are any liabilities on the equipment, such as unpaid AMC/ CMC charges or even purchase costs.
---
PrimedeQ is an eMarketplace for buying, selling, renting & servicing medical equipment. We offer Valuation Services for medical equipment. Contact us on +917019759765 or +918971223957 for any medical equipment or related spares & services.