PrimedeQ offers all types of ultrasound probe repair services. Contact us on +917019759765 or +918971223957 for any probe/ transducer related services. Click here to buy or sell used or refurbished Ultrasound machine or Ultrasound probe/ transducer

——————————————————————————————————————————-
Ultrasound is the most famous method of imaging which can be done without radiations. Ultrasound are safe to be used during pregnancies by gynecologists and obstetricians to know the baby position and its heartbeat and other condition.
Transducers or probes for an ultrasound machine are a vital part of a fully functional ultrasound unit. The probe mainly consists of an acoustic lens, acoustic matching layer, piezoelectric element/crystals and backing material. Other parts of the probe are the connectors, cable, motor control and locking system all contributing to the overall performance of the probe.
One may be facing several types of problems while using the ultrasound machine probes. They may be one or more of the following:
Poor quality image: Poor image may be due to

Cracked or air bubbles on lens,
Connector issue
Crystal damage
Tears on the sheath

Physical damage or broken housing: Physical damage may be due improper handling, dropping of probe, poor storage etc.
Noise: Noise may be due to broken cable, damaged / broken pins in connector or electrical interference.

Breakage of probe connector pins may be caused by improper insertion or connection.
Damage to cable occurs due to cables being ridden by some wheels or closure of drawers without proper placement of the probe inside, etc.

No image: If there is image being received, it could be a result of probe cable – connector breakage, probe compatibility issue or software issue.
Common problems with ultrasound probes:
Crack or air-bubbles on lens,
The acoustic lens is typically a colored part looking like rubber attached to the tip of the probe. There could be small bubbles, cracks, scratch, corrosion, degumming, blister or holes on the lens
Dropouts or black circular areas that appear to move during scans are usually caused by air bubbles.
This may even expose patients to viruses and bacteria that can get trapped in these little crevices. World Health Organization estimates the Healthcare Acquired Infection prevalence rate between 7 to 12% globally. However, HAI prevalence rate would be higher in the developing countries like India, due to inadequate resources, insufficient processes and under reporting. Fixing these issues may avoid such cross contamination/ infection.
Connector issues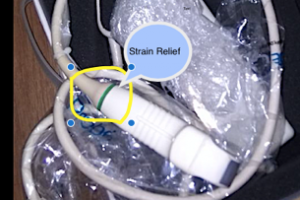 Strain relief separated from connector or head/ Ultrasound probe artifact may lead to noise due to missing connection. A cracked strain relief may occur where the probe attaches to the cable or it may also be seen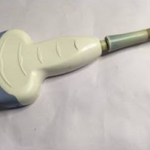 at the transducer connector location. Strain relief may be getting separated or coming loose from connector or head due to bending, system could have run over the cable, or the connector could have been dropped. This kind of damage needs immediate attention since, this may expose the sensitive internal parts causing damages more costly to repair.
Crystal damage -Weak, dead or damaged crystals
Very often cause of crystal damage in ultrasound probes is dropping of probe on the floor or hitting of probe with gel bottle or other object. Once a probe is dropped its piezoelectric crystals may stop sending or receiving signals, resulting in scans with weak or dead elements. This leads to black lines in an image, these lines are called dropouts. Weak elements cause the faint little lines that don't obscure much. These are the first signs that the elements are getting progressively damaged and need to be replaced. Instead of faint lines if the lines are thick and pronounced, the elements are dead. If there are thick lines in the scanned image, important things can be missed out during diagnosis. You may be harming the patient due to misdiagnosis.
Tears on the sheath/ Damage in the cable sheath / Broken cable
Tears on the sheath can cause further internal damages to probe and can also hurt the patient. It leads to noise in the picture, a missing connection or lines in the image. It could have been caused by falling on the floor or being hit with another object, wear and tear of the wires, or a cut of the wire by a sharp object. It can even be caused from frequent and prolonged use. If your cable is damaged, you need probe repair services to fix the damage.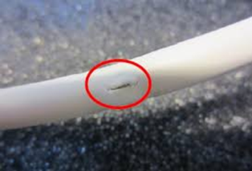 Physical damage or broken housing
Ultrasound probe casing can be cracked after using for long time or improper handling, dropping of probe, poor storage etc. This needs almost immediate attention or else it may not only be not repairable, but also cause damage to other parts like lens etc. Humidity can enter those small leaks and burst the probe from inside. This will be serious when the induced current from the front comes in contact with the patient's body.
This is a common issue with portable ultrasound machines. Quick, off-center and repetitive tugs and insertions can cause connectors to wear out over time. Once the locking system is broken the probe cannot fit securely. It may even fallout.
Dried out probe
Transducer lens need to be disinfected with suitable disinfectant. It usually happens when ultrasound probe is cleaned with fluids containing alcohol.
Transducer motor control failures
If the array stops moving or gets stuck, the motor control function has failed and may need to be repaired or replaced.
Probe leakage
Leakage commonly occurs with 3D/4D probes with soft shell. Probe leakage can be diagnosed by just turning gain all the way up and holding the probe head facing down for 30 seconds. After doing so if image is wavy initially and it begins to turn black as gravity takes effect on the oil inside the probe casing, this can be probe leakage.
We always recommend treating your transducers / probes with care and only use as per their original manufacturer's (OEM) recommendations.